DIVA TALK: Catching Up With Follies Star and Tony Award Winner Victoria Clark


*
Tony Award winner Victoria Clark, the gifted soprano who always manages to find the pain that lies beneath the laughter and, conversely, the humor beneath the drama, is currently lending her many talents to the role of Sally Durant Plummer in the Kennedy Center's 2012 Tony-nominated Broadway production of Follies now in residence at Center Theatre Group's Ahmanson Theatre in Los Angeles through June 9.
Clark has stepped into the role created at the Kennedy Center and subsequently in New York by another Broadway favorite, two-time Tony winner Bernadette Peters, who was unable to continue with the Stephen Sondheim-James Goldman musical due to previous concert obligations. Clark's agents told her about the role in December, "and it took me half a second to say, 'Absolutely. No question!' I jumped at it immediately," Clark told me last week, adding, "Bernadette is so beloved, and she's so respected, and she's very missed here. People miss her spirit and miss just having her here. She's part of the company, but I always feel like her spirit is definitely here. She created the template for this production, so she's very much a part of this even though she's not here."
Although Clark — a Tony winner for her touching performance as Margaret Johnson, another mother in a crumbling marriage, in The Light in the Piazza — previously played former Follies girl Plummer in the 2007 City Center Encores! production, she wasted no time preparing for the Los Angeles engagement. "I started working on it immediately before the end of the year because I knew it was Mission Impossible," she explains with a laugh. "I knew the assignment was basically Mission Impossible: Go into a production where the other actors have been working on it for a year, and it was in their bones, and it was intrinsic and somehow appear to be equally comfortable and at home. So I mentally started working on it immediately, and most of the music I knew already because that's in my soul — all that music — and I just remember it very vividly from the Encores! production...I didn't really work on the lines too much because I don't like to try to get that all sewn up until I see the other actors, but it's just been on my mind, and I've been thinking about her a lot. I guess as much prep as you could do without actually being in a rehearsal room, I tried to do."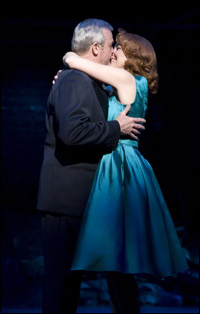 photo by Craig Schwartz

Clark says her current interpretation of Sally may be a little different because "I'm different...I think she's probably a little more delicate now than she was [during the Encores! run]—maybe a little more soulful. It's hard to describe because I'm so inside of it... but [she is] definitely in the same flavor family. There hasn't been any drastic rethinking ... basically how I'm approaching her is similar."

Prior to arriving in L.A., Clark spent a week in New York with dance captain Sara Edwards to work on the tap number, "Mirror, Mirror." "And, that's all we did in New York, and then I came out here and worked with Ron [Raines]," Clark said. "I worked with Ron every day for about five or six days, and then Danny [Burstein] came after that, and I had a day with Danny, and then Jan [Maxwell] came, and then we had a day with all four of us. And then the whole cast descended, so I essentially had one day with the other three principals. And then once the cast came, we were into work-throughs. That was it. So when the critics came, that was my eighth performance. ... You just jump in, [but] I'm loving every experience. I'm loving every single second of it. I just can't wait to go to work; it's just been a joyous, fantastic collaboration. Really, it's just been a big dream job for me."

That dream job includes getting to wrap her rich, soaring soprano around some of Sondheim's most beautiful tunes, including "In Buddy's Eyes," "Too Many Mornings" and "Losing My Mind." About the latter, Clark says, "Sally just found out she doesn't have Ben. Ben doesn't love her. Her husband kind of said that the marriage is over, and her sons have moved away, so she has no one. And, she's probably, in real time, sitting on a stairwell somewhere trying to put some pieces back together... She's alone by herself in the theatre somewhere, and for me, 'Losing My Mind' is the song that comes up, and I have a pretty detailed image of where this song comes from and why it's this particular song. But it's her fantasy. It's her moment in the spotlight in the Follies."