DIVA TALK: Catching Up With Little Mermaid, Phantom, Love Never Dies and Master Class Star Sierra Boggess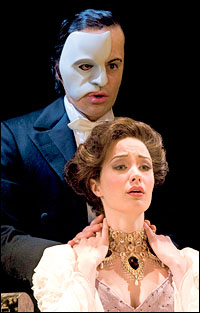 Photo by Catherine Ashmore

Question: You've had a busy few years. What was it like for you getting to create a role in London in Love Never Dies?
Boggess: That was just, it was so heaven! Andrew [Lloyd Webber] and Hal [Prince] and Gilly [Lynne] were basically – and I'm going to talk about this [in my concert] – they gave me my start really. They weren't my Broadway debut, [but] they cast me in Phantom in Las Vegas, and I worked with them firsthand right away, straight out of school pretty much. So I feel like that relationship with Andrew, especially as it continued on—to get to then create for him the Christine in Love Never Dies—was just one of the most special, incredible experiences of my life. I just feel grateful all the time. [Laughs.]

Question: What was it like working with Andrew Lloyd Webber? Evita was the musical that got me hooked years ago.
Boggess: That's awesome. He's amazing! He is truly a genius. He is so funny, and he's just also a cool guy, too. I just love hearing all the stories he has to tell. It's hard to explain being in the presence of a genius all the time, but it's what you would expect. [Laughs.]

Question: Then you had the chance to go back and play Christine in the first Phantom both in London and then on Broadway. What was it like finally getting to play the role on Broadway?
Boggess: It was so cool. I feel like I completed my Christine journey, and I feel so lucky. I got to play with four different, absolutely incredible Phantoms. I feel like I can die a happy girl, and I have really done the Christine thing in just the greatest way possible. I find it fascinating that I was born at the time I was born so I could be the 25th anniversary Christine. Do you know what I mean? It's incredible. I just feel so lucky because it's one of the shows that I saw when I was little that I knew I wanted to be in. I just knew it. And, so it's just pretty incredible.

Question: I know they reworked Love Never Dies for Australia. Is there any talk of it coming to New York or having a U.S. life? And, would you be interested…
Boggess: If it happens in New York, I'm there in a heartbeat. They're always talking about it. It's definitely not dead in the water, but who knows anymore with the way Broadway is, what shows can get up. Andrew's always talking about it. We'll see what happens. I think it's one of the most beautiful scores he's ever written, and I'd love for it to have a life in the United States as well.

Question: You also played Fantine recently. What was that like? That's a bit of a darker role than what you're used to.
Boggess: It was amazing. Les Miz is one of my favorite shows ever written, and I did the show straight out of college. I went on tour with it and had one of the greatest times of my life. And then to get to come back and play Fantine in the West End, which is still the original production – it's the longest-running show in the West End. That in it itself just made me feel amazing. Being American and everything, it's just cool. I like that sort of stuff, and it was really fun to be a part of it when there was so much buzz about Les Miz because when I was doing it is when the movie was coming out, and we got to go to the premiere. So it was amazing. I always loved the character of Fantine and [enjoyed] researching it and reading the book and seeing more things that she went through. I loved getting to tell that story every night. And my fiancé, who is British, was playing Javert! So that was cool. His name is Tam Mutu.

Question: How did you meet him?
Boggess: I met him on Love Never Dies. He was the alternate Phantom…and he's still playing Javert in the West End.

Question: Do you have a wedding date yet?
Boggess: No, not at all because it's very difficult to figure it out when he was born there and I was born here and with our schedules and this business – man, it's just not very forgiving. [Laughs.] So, we'll see! I'm very happy where it is right now.