DIVA TALK: Catching Up With Tony-Nominated Cinderella Star Laura Osnes



Photo by Nathan Johnson Photography
Laura Osnes
Laura Osnes, the golden-voiced singing actress who made her Main Stem debut as Sandy in the Kathleen Marshall-helmed revival of Grease, is currently starring in the title role of the Broadway debut of Rodgers & Hammerstein's Cinderella, a property that began its life as a 1957 TV special starring Oscar winner Julie Andrews. Osnes, who received her second Tony nomination (her first came for her work in Bonnie & Clyde) for her performance as the downtrodden princess-to-be, is no run-of-the-mill fairytale character. With the aid of a new libretto by multiple Tony nominee Douglas Carter Beane, Osnes' beautifully sung (Cinder)Ella is a princess for our time, one who stands up for the rights of others and takes matters of her future into her own hands, all the while viewing the world through a glass slipper that is definitely more than half-full. The multitalented artist, whose Broadway resumé also includes the critically acclaimed revivals of Anything Goes and South Pacific, also shines on her newest solo recording, "If I Tell You: The Songs of Maury Yeston," which is now available on the PS Classics label. I recently had the pleasure of chatting with the Broadway favorite about her newest role and recording; that interview follows.
Question: Since Cinderella is a fairytale, I was wondering how you approached the role.
Laura Osnes: It's a very well-known story and a very well-known character, so in a way, it felt like I had to pay homage to what everybody expects, but our script is completely new, brand-new by Douglas Carter Beane. So I feel like all I had to do was be truthful to what was written and portray it that way. To be honest, that was my approach. I actually haven't seen the Julie Andrews or Lesley Ann Warren versions all the way through. I saw the Brandy version once right after it came out on TV. But I haven't gone and tried to copy any of their performances. I've just tried to be truthful to who this character is and what Douglas wrote.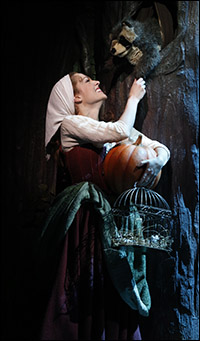 photo by Carol Rosegg

Question: What have been the challenges of playing Cinderella?
Osnes: It's a very physical role. I'm doing a lot of running around, and I'm on stage a lot. It's exhausting, but it's very fun. Obviously, I get to play a princess, so I have beautiful costumes designed by William Ivey Long, and the cast is absolutely fantastic. I love going to work every day and working with some of these amazing actresses as well as really funny and wonderfully lovely people. One of the main challenges for me was marrying the Rodgers and Hammerstein classic score with the kind of more contemporary, witty book. I think that was one of all of our challenges. Over the period of doing workshops and readings of the show before starting previews on Broadway, that was the main issue we were trying to iron out. And I feel like we found a really wonderful balance.

Question: Now that you've played her for a while, how do you view this Cinderella? How would you describe her?
Osnes: I think she's actually a Cinderella that people can look up to. I feel like Cinderellas of the past have been maybe meek or almost abused in a way. This Cinderella is no different in that way, but she's known for her charity, her generosity, her kindness and her forgiveness, and she has these qualities that are admirable and she cares about other people before she cares about herself. I feel like in helping other people get what they want, the Prince helps her find out what she wants as well. I feel like that element of our storytelling, what Doug did with our book, is different and more special than other versions of Cinderella.