DIVA TALK: Catching Up with Tony Winner and "Living Proof" Star Bernadette Peters


BERNADETTE PETERS
It was an exceptionally busy summer for two-time Tony Award winner Bernadette Peters, who also recently added best-selling children's author (for the Blue Apple Books tome "Broadway Barks") to her lengthy list of accomplishments. Peters, who spent the summer touring her concert act to several cities throughout the country, also filmed an emotional and critically acclaimed guest appearance on the season premiere of the ABC hit "Grey's Anatomy" and a role in the powerful new Lifetime film "Living Proof," which debuts Oct. 18 at 9 PM ET.
"Living Proof," which charts Dr. Dennis Slamon's creation of the breast cancer drug Herceptin, boasts a starry cast led by Harry Connick, Jr. as the UCLA doctor, with Peters, Jennifer Coolidge, Regina King, Tammy Blanchard and Trudie Styler as some of the breast cancer patients who were involved in the early drug trials. Also featured in the film, which was produced by Renée Zellweger, Craig Zadan and Neil Meron, are Angie Harmon, John Benjamin Hickey, Swoosie Kurtz, Paula Cale Lisbe and Amy Madigan.
"I had worked with Craig and Neil before," Peters said earlier this week. "The last time was on 'Cinderella' on television with Brandy. When this script came up, they offered me the role. It's such an important movie, and these women have such important stories to tell." Peters says she was deeply affected when she originally read the script. "They made the requirements [for the later drug trials] so stringent that . . . some of the women who were helped [by the drug in the first trial] . . . couldn't continue with the study, which I found heartbreaking."
Peters says filming "Living Proof" was an emotional experience, but her co-stars were a joy. "[Harry Connick, Jr.] is great. I always knew he was so talented. He's one of the most talented and funny people and he's also one of the kindest — he's a darling guy. Everybody was great in it. And, Regina King, at the end of the film she just killed in this movie."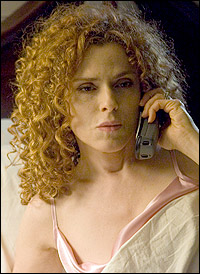 photo by Skip Bolen, Lifetime Networks, 2008

Peters plays Barbara, an art teacher, who, though initially reluctant to take part in the study, was completely cured by Herceptin. As in her stage work, Peters is able to choose from an expansive emotional palette to color the character, and her performance — which is moving, humorous and ultimately spirit-raising — is a striking reminder why we need to get the actress back on the Broadway stage. Peters had the chance to meet the woman whose story was the basis for her character.

"[Barbara] came to the premiere [of the film]," says Peters. "I met her at the lunch, and I just burst into tears."

The Song & Dance and Annie Get Your Gun Tony winner also had the opportunity to speak with Dr. Slamon, whose life-saving work is the focus of the film. "I sat next to him at the lunch. He couldn't stand all the attention — he's really about being in the laboratory. He's so close to finding a cure for ovarian cancer, and people in his group are working on a cure for prostate cancer, too. They're about two years away from both. Now he's going to go back and find out why Herceptin works so well for some people and not for others. When I said, 'You have to go back and deconstruct it,' his eyes lit up! 'Yes that's right! I have to go back and deconstruct it and figure it out, pull it apart, why it works for her…' That's what he lives for."

At the premiere Peters also had the chance to join Connick, Jr. in song. "I sang 'No One Is Alone,' which resonated so, and then Harry wrote this song called 'Song for the Hopeful,' which is really a prayer, and we sang it that way. He has a recording of the song with a choral group and rhythm under it, but he and I did it just slow and beautiful. It was such an honor to sing with him. I've always admired him."

Peters explains, "What I really came with from this film was there is a drug [Herceptin] I had never heard of, and I realized that some little girl who is watching Lifetime is going to hear about it, and she's going to think, 'Oh, my God, this could save my mother's life. This could save my life.' There are options out there that can save women's lives. That's what's so important about this movie. I haven't had cancer touch my life — I've been very lucky. I do have a dear friend, but she's been cancer-free for about 15 years now. Women that have friends [with breast cancer], they have heard of the drug. But people who haven't, haven't heard about it. It's an important drug that people don't know about. It's an important option. So many women watch Lifetime. It's going to save so many lives."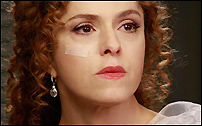 photo by ABC TV

Peters says it was while she was filming "Living Proof" that the script arrived for the recently aired season-premiere episode of "Grey's Anatomy." "The weird thing was," Peters says, "here we are doing 'Living Proof,' and we talk about the Fire and Ice Ball. That's the event to raise money for breast cancer, and then as I'm finishing this up, I get the script for 'Grey's Anatomy,' and my character is in a limousine accident going to the Fire and Ice Ball."

By the time she began filming her "Grey's Anatomy" guest role, about which there is already Emmy buzz, Peters says the script had been totally rewritten. "But [the rewritten version] was great. The writing is wonderful, and I loved working with Kathy Baker. Most of my scenes were with her, and we worked really well together." One of the rewrites included a name change of her on-screen husband: He would now be called Michael, which was also the first name of Peters' late husband, the investment adviser who was killed in a helicopter crash in 2005.

When she read the revised script and noticed the name change, Peters says, "I thought, 'Oh, I'm just not going to say anything.' I'll just do my work." Peters says, however, the name didn't affect her emotionally while shooting the scenes. "You'd think it would," she admits, "but it really didn't because [the actor] so didn't look like Michael."

When asked to describe the differences and challenges of acting for the camera versus acting onstage, Peters says, "You have more time onstage. You have more time to figure things out, more discovery time. If it's a musical, you have a little less time because there's more to fit in in the day. There are musical numbers and staging and a lot more people involved. . . . In [film and television], you basically have to do your work before you get there, especially on this movie ['Living Proof']. We shot it in a really short amount of time. It was like three weeks, and we stayed on schedule. . . You get a rehearsal on the day of. You rehearse it, you figure it out, and then you bring in the crew to look at it because they have to light it. And then you go away and they light it, and then you come back and you shoot it. . . . It's all about capturing the moment when the cameras are rolling. It's about being as available to yourself and being in the moment, catching the moment and surprising yourself as much as you can. . . . [In theatre] you have the first four weeks to sort of explore and find your character. And the joy of being in the run of a play is you get to go deeper and deeper and deeper into it, which is really amazing."

Peters also enjoys sharing her concert act with audiences around the country. For those who've heard Peters on recording or watched her many television musical appearances, the excitement of her rangy belt and the ethereal sound of her rounded, golden soprano tones are evident. We also know the power of her interpretative skills, yet enjoying her live in a concert setting is a wholly different experience. Not only does she bring all of the aforementioned qualities, but Peters is also a thrilling entertainer who possesses a natural warmth that seems to spread throughout whatever venue she is performing. By the end of a Peters concert, one feels uplifted by the charms and good spirits of the multi-talented actress. In the next few months, Peters will bring her concert to cities in Maryland, Washington, Colorado, Florida, Texas and Pennsylvania.

The newest additions to her show, which features heavy doses of Sondheim and Rodgers and Hammerstein as well as tunes from her many award-winning performances, are the jazz standard "Fever" and the classic Disney tune "When You Wish Upon a Star." "I've also added the Sweeney Todd organ [music] before I sing 'Johanna,'" Peters says. "I went to Disney Hall, and they had an organ in the wall. Every time I've gone to one of those theatres, I've always wanted to use the organ . . .so we hired an organist to play it. The whole hall shook. It was so exciting." (Peters says her next solo album will likely feature a trio of musicians performing a mix of standards.)