DIVA TALK: Catching Up With Tony Winner and Man Who Came to Dinner Star Cady Huffman


CADY HUFFMAN
That Tony-winning triple threat Cady Huffman is thankfully back on the boards in The Peccadillo Theater Company's current Off-Broadway revival of Kaufman and Hart's classic comedy The Man Who Came to Dinner, which is currently playing a limited engagement at the Theatre at St. Clement's. Directed by Obie-winning director Dan Wackerman, the production casts Huffman, best known for her hilarious and Tony-winning performance as Swedish bombshell Ulla in Mel Brooks' The Producers, as actress Lorraine Sheldon opposite Drama Desk winner Jim Brochu as radio personality Sheridan Whiteside. During previews for Man Who Came to Dinner, I had the pleasure of chatting with the good-natured actress, whose breakthrough role was playing Ziegfeld's Favorite in the original company of Tommy Tune's staging of Will Rogers Follies; that brief interview follows:
Question: How did this role come about for you?
Cady Huffman: They called me. They called and asked, and I've been wanting to do a play, and I gave them all my conflicts — which were many — and they still said yes. [Laughs.]
Question: Were you familiar with this play?
Huffman: Not really, no. I knew that it existed. I had heard of it, but I really was not familiar with it, no.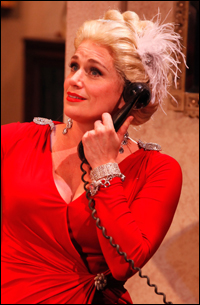 photo by Carol Rosegg

Question: What was your response when you first read the script?
Huffman: Well, I thought, for one thing, Lorraine is a kick-ass role. Everybody I told I was doing it was like, "Oh, that part's great! You'll do great…" At first, because I had a lot of conflicts for rehearsals, I did not get to rehearse much, and I thought, "Oh, I'm only in three scenes." And then, when I really got into it, I was like, "Oh my God!" [Laughs.] "There's so much to learn." But, we're still doing the work. It's still in previews. We have about a week to get it right.

Question: How would you describe Lorraine?
Huffman: Vain. Selfish. Talented. Sexy. Ambitious. Clever. Fashionable… So many things. Fun! She is definitely the life of the party.

Question: What's it like playing her?
Huffman: She's fun. I get to put on the prettiest clothes and sort of be very outside myself. I am a jeans-and-t-shirt-no-makeup kind of gal. It's fun to [play] somebody who really, really works on the way she looks and how she acts, and has really worked very hard to change herself.

Question: Tell me a little bit about the rehearsals and working with director Dan Wackerman.
Huffman: Rehearsals were nuts because we're not even on a contract. We're on some sort of agreement through Equity, so they only get so many hours with us, and because we're not getting paid a regular salary, there was never a rehearsal where we had everyone. [Laughs.] There was always a stage manager that was on for somebody. One day, the stage manager walks into the scene and Jim Brochu just goes, "Who are you [today]?!" [Laughs.] He played so many roles, you're like, "I don't even know where I am in the show! Who are you?" Fortunately, it's a very friendly, kind, wonderful cast, and we all just went through it with a good dose of humor.