DIVA TALK: Catching Up With Tony-Winning Pippin Star Patina Miller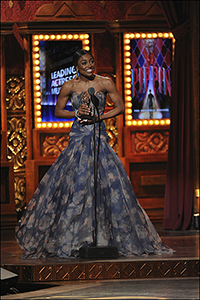 Photo by Heather Wines/CBS

Question: Do you remember being on stage and giving that speech or is it sort of a blur?
Miller It was totally a blur. Everyone kept pressuring me to have something [prepared]. You don't want to get up there and "umm, umm" throughout the speech and not know what you want to say if you do get the opportunity. It's always nice to be prepared just in case… [But I didn't] want to jinx myself by [preparing a speech, but] the day of I got nervous. You know, there's no reason for me to think it couldn't go my way. [Laughs.] Up to this point, I was trying to play it safe and not jinx myself. But that morning at the Tony rehearsal, I [thought], "Alright I'll give in, I'll just write out names that I would maybe want to say." And it ended up being too many people, but by that time I had gone over in my head something I would want to say about who to thank, and I was thinking whatever comes out comes out. And, I kid you not … I don't know how it all came out and made sense in such a crazy moment, but I'm so happy because I got out everything that I was feeling and I thanked everyone I wanted to thank. That was the biggest thing was just making sure all these people who helped me get to this point were recognized.

Question: I thought your speech was one of the greatest of the night. Both you and Billy Porter were so joyful that it was contagious.
Miller: Thank you. It was so exciting!!

Question: What does it mean to you now, a few weeks later, to have won the award?
Miller: Oh my God, it means everything! I love the piece that we've been working on for almost a year now. I am totally in love with the piece, and I love my castmates. I've never been a part of a process that's been stressful at times but for the most part it's been the most amazing, amazing experience. And the thing about it is because it was hard, it just makes all of this mean so much more. Whenever you're trying to put together a piece like this and reinvent it for a newer audience – everyone just works really, really hard, really hard. Everyone…[put] everything into making, telling the story, every single person involved in the show. To be recognized for something you've worked so hard on and something you've put your all into is really amazing, and it means so much to me to be recognized for playing this role that was a re-creation. It was a role that had already won a Tony for Ben Vereen. And, to have it totally reimagined and to be recognized for it is pretty amazing. I'm still on cloud nine. I still can't even believe it happened. Standing on that stage every night... you're just so thankful that Pippin has touched so many people and people keep wanting to come see the show, and people are coming back to see the show. It's really great.

Question: What was that first performance like following the Tonys after you won, Andrea Martin won, the show won Best Revival?
Miller: Oh God, the excitement was just kind of mind-blowing. Everyone was floating on cloud nine. Right after the ceremony, our party was just great because a lot of people made their Broadway debuts in our show. This is a lot of people's first time experiencing the Tonys, and to experience it in this way – it was crazy for them, and I was just happy to be a part of it. The award, really, was all of ours. Like I said, I could not be standing on that stage accepting that award without everyone in my show, without the cast. Everyone had a major role in it. It's truly been an ensemble – it really is an ensemble show, and I'm just so blessed to have been singled out for my work in the show.

Question: When did you get involved with Pippin?
Miller: I came on board last summer; it was around this time when I'd learned I'd gotten the role. I was at the Kennedy Center doing First Dream this time last year, and I went in two Mondays to audition, and right after the Tonys last year, actually the day after the Tonys, was when I'd found out I'd gotten the role.