DIVA TALK: Catching Up With Tony-Winning Pippin Star Patina Miller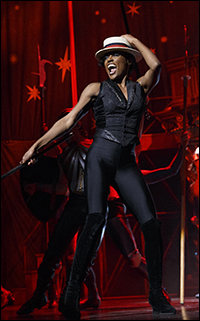 photo by Joan Marcus

Question: Were you familiar with the musical? Had you ever seen it?
Miller: To be honest, I was not that familiar. I'd heard other people talk about Pippin, but I wasn't as familiar as a lot of people. In that month I must have researched everything I could and listened to that album as many times as I could. There were many nights I went to sleep with that album playing, to kind of get a feel for the show. And, it was actually great that I didn't know that much because I was able to go into it and throw myself into it without any preconceived ideas about what the piece should be.

Question: What stands out in your mind about the whole out-of-town rehearsal process and combining the world of the show and the circus?
Miller: ART, I've just got to say they are some amazing people and how lucky we were to have that time in July of last year to go for two weeks and have a workshop for the choreographer and the director… and the circus choreographer to figure out how all the worlds were going to work together. We worked for two weeks on seeing if the language of these different things could exist in the same world. We worked for two weeks straight on the opening number and "Glory," and the acrobats were starting to learn Fosse, and the actors were starting to learn circus things, and we were all singing and learning music together. So it was really like being in school. We were put into this thing and we had two weeks to just play. I think having that time at ART that summer was really beneficial to the process later when we moved to ART in November to do the production. It was great to just have that time at the ART to work on our show and to figure out these characters and to figure out our world, where our Pippin existed and what it was. You normally don't get that opportunity to have the time or the place to workshop it, and we got to be in Boston, and Boston loved the show…. And, when we moved to New York we worked on it even more. So it's nice that we had all that time.

Question: Tell me about working with Diane Paulus, who you had worked with before. What makes her so special as a director? She seems to have the magic touch when it comes to these revivals.
Miller: I think Pippin was a show that Diane grew up with that she had an attachment to. She played the CD all the time, and Hair was one of those pieces as well. … It comes from such a special place in her heart and was something she always wanted to do, [and she was] able to get the opportunity to revisit the piece and make it play out maybe the way [she] saw it [in her] head, or figure out a way to make it different for a newer audience. Diane is just able to make people feel things that you wouldn't normally feel in the theatre. She really just believes in going all the way and digging as deep as she possibly can and just finding the truth of every moment – that's all she cares about. All the other stuff she doesn't really care about, but she really knows how to go dig in layers. That's how she works. She's all about what's underneath the text and playing the subtext of that and really figuring all of that out. And, she's not afraid – she's not the kind of director who's afraid. She's very much in control of the room. She's very smart; she knows all aspects of what we're doing. She's not just involved with the directing; she has strong opinions about the lighting and the costumes and the way that the costumes are going to be onstage and how they help tell the story. All of it is about how it helps tell the story. Musically, she's very knowledgeable in music, as well. It's freaky the way she knows all realms of the theatre, and she knew how to make it work, make it all work to come together to tell the story. And, she's an actor's director—she knows how to pull it out of you, too.