DIVA TALK: Catching Up With Tony-Winning Pippin Star Patina Miller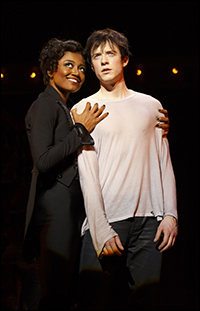 Photo by Joan Marcus

Question: Now that you've been playing the part for a while, how would you describe the Leading Player?
Miller: She's this charismatic...ringleader in our show… The Leading Player is not the mother of the group, but she is the leader of this acting troupe, and she's charismatic and nice and funny, and she's a show woman and she likes to have a good time, but she's very passionate. She's so passionate about what she wants to get over to the audience with this show and its message. She takes everyone on a journey. It's not just Pippin's journey, it's sort of like her thing to reach the audience, and this is the way that [she's] going to spread this message of what this show is about. And when Pippin doesn't go through with it and the show starts to go off the path it's supposed to go—she likes things very structured, everything the way that it should be, so when people get out of line, that's when you start to see her crack. I don't think of her as this bad dark person.

Question: Do you have a favorite moment in the show for her? Is there something you look forward to every night?
Miller: Yes – I love the ending. I love the last act of the play, of figuring out what it's going to be because it changes every night. To be able to have that opportunity to directly address the audience in that way, and to connect with people in the audience and to really tell them what I have to say is something that I look forward to. That whole ending of getting Pippin to do it – I like to try new things every night because it's happening for the first time every night. Some nights are a little bit more desperate, some nights are not as desperate. I'm really happy that I get to do it. It's a really special piece and for my arc in the show, where I end up. I look forward to taking that journey every night.

Question: Do you think the show has a message? What does it mean to you or say to you?
Miller I think it's about examining in your life what matters to you. What's more important—is love and family more important or is having the glitz and the glam of what they say is the perfect life? Pippin's journey is everyone's journey. We've all been on that quest to find fulfillment in life, to find your place. Where is your space in this world and what can you do to make a difference? And, as a young person starting out, everyone says that you have to go to college and you have to do this and… My Mom had me very young, but I didn't want to do that. I wanted to be a performer—that's all I thought I wanted. I gotta be a star. [Laughs.] I'm going to work hard and not talk to boys and I'm going to get it. And I'm 28 now, and I've had an amazing journey so far, but I think the most special part of all this is that within all of this I found a different side of myself that I didn't think would ever happen to me, and that's love and finding someone to spend your life with … Now I'm just as happy being at home with my fiancé and starting our life together and maybe having a family. Your priorities just change. I think the piece is about identifying that you don't have to choose between the two, but it basically represents the idea—is it enough? How far will you go to be extraordinary? Basically, that's what the whole evening is about.

Question: You mentioned your fiancé in your Tony speech. Do you have a wedding date yet or are you still working on that?
Miller Yes, we do, it's going to be next year at this time. That's the only thing we have planned for right now! [Laughs.]

Question: Do you have any other projects in the works or are you just focusing on Pippin and the wedding?
Miller: I'm focusing on Pippin and the wedding. I am doing a concert at the Kennedy Center in December – a solo concert, so that will be cool. I'm hoping to do something in the city soon within the year. So a lot of exciting things happening, but for right now my focus is on doing our show and also planning my wedding.

[Visit PippinTheMusical.com.]

Well, that's all for now. Happy diva-watching! E-mail questions or comments to agans@playbill.com.