DIVA TALK: Catching Up With Two-Time Tony Winner and On Your Toes Star Christine Baranski


Christine Baranski
There are few actresses who can toss off a one-liner as dryly as theatre favorite Christine Baranski, who is equally well known for her work on the small screen, which includes an Emmy-winning turn on "Cybill" and her current role as Diane Lockhart on CBS' critically acclaimed "The Good Wife." Baranski, who is also a two-time Tony winner for her performances in Rumors and The Real Thing, will next be seen in the City Center Encores! staging of Rodgers and Hart's On Your Toes, which plays the famed Manhattan venue May 8-12. Directed and choreographed by Warren Carlyle with music direction by Rob Fisher, the cast also boasts Kelli Barrett, Walter Bobbie, Jeremy Cohen, Joaquin De Luz, Irina Dvorovenko, Dalton Harrod, Randy Skinner, Shonn Wiley and Karen Ziemba. Baranski, previously seen in the Encores! stagings of Promises, Promises and Follies, is here cast as Peggy Porterfield, the role created by Luella Gear (1936) and later played by Elaine Stritch (1954) and Dina Merrill (1983). Last week, I had the pleasure of chatting with the multi-talented artist, who spoke about her latest stage outing as well as her Tony Awards night memories; that interview follows.
Question: How did you get involved in this production?
Christine Baranksi: Well, I got asked. The nice thing is I've done several other Encores, happily. I did Promises, Promises in the mid-nineties, and Rob Fisher was the conductor then, and then in 2007 I did the great Follies production, and they both were incredibly happy experiences. The nice thing is I worked with Warren Carlyle at The Kennedy Center. He choreographed Mame in 2006, so we've always wanted to work together again, so I think the offer came out, and as soon as I heard all the pieces — Warren and Encores! and the Elaine Stritch role, how fun is that? So there's no downside. Because I'm on a network television show, there's very little theatre that I can actually fit into my hiatus, so Encores! is perfect.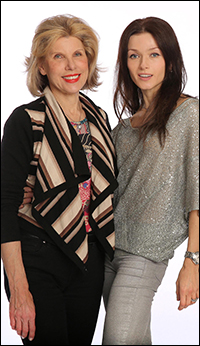 photo by Joan Marcus

Question: Were you familiar with this musical at all? Had you seen it?
Baranski: I was not familiar with it. I actually did not see it when it was done in the eighties with Natalia Makarova. But I do remember her Tony Awards speech. For some reason I watched the Tonys that year, and when she got up to give her speech, she was so adorable. When she won the Tony, [she said] one of my favorite lines — "I want to thank my husband for staying out of the way" — a memorable line that any actress can relate to, I think.

Question: Tell me a bit about Peggy, the character that you're playing.
Baranski: Well, I think that Peggy is a lady producer, maybe in an era where there weren't that many. My backstory is that perhaps her husband was a Sol Hurok-type, and when he passed away, she inherited a lot of money and has a great passion for the arts. I think she's part-Park Avenue and part-Greenwich Village, in that she loves the avant-garde, she loves the Russian ballet. She has this song about how she was raised by this mother who was in and out of bed with guys and in and out of marriages. I think her mother may have been a gypsy and they traveled the country and were always going to Reno to get mother her divorces. So she had a bohemian upbringing and perhaps married a wealthy man and had a different sort of life that involved having lots of money and living at a certain level. But because of her passion for the arts, I think she loves being around artists and knows how to handle them gracefully. She adores them. I think she treats them like they're these brilliant, unpredictable children that she has to manage. But she's good at it, and I think she's trying to bring this ballet company into the twentieth century. She feels that they're behind schedule – it's the thirties, and they're still doing things that were performed for the Czar. So my whole spine of my character is to move the company to get this wonderful jazz ballet produced. And, of course, at the end of the musical you do have that culmination with the actual ballet being seen.