DIVA TALK: Catching Up With Two-Time Tony Winner and On Your Toes Star Christine Baranski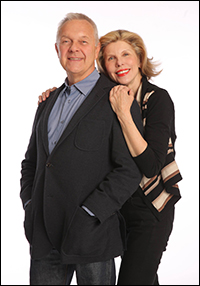 Photo by Joan Marcus

Question: Tell me about working with Warren Carlyle since you have worked with him before, but this time he's directing and choreographing.
Baranski Oh, and he's come so far since I first worked with him. In Mame he was the choreographer. He's just – I call him butter and sugar – he's just the most lovely, warm, open guy. Mame was a very intense experience. There were so many musical numbers – so much to do – and he is extremely gifted and very nurturing of his performers. And, you know, by now I think he's on his ninth Encores!, so he's a veteran here. He really knows the genre, and this is a very particular form, this Encores! I'm not even sure we have two weeks to really do this! We'll be teching the show in about ten minutes, and this is our second day of rehearsal. So for anybody who hasn't done it, it's kind of like, "Whoa!" It's thrilling. The last one I did here was Follies, and you couldn't ask for a more ambitious show. We were doing the songs, one great song after another, choreography, and somehow it all comes together. I think Walter Bobbie called it "summer camp for the A Team." It's really fun, but you have to go with it. You have to be willing to just hop on board and be fearless.

Question: It seems like you really enjoy doing musicals. What is the appeal of musical theatre for you?
Baranski: It's so liberating. Particularly now that I'm on a network series, where I play this head of a law firm and I have courtroom scenes and office scenes, so much of my acting is just from the neck up. I went to Capezio's a few weeks ago and bought some tights and tap shoes and a leotard, and I trundled off to tap class down in the Village taking the subway. I was just so happy to be back feeling like a Broadway hoofer, because I've got a little soft-shoe number. It's just so fun and liberating to be around dancers and performers, who live in their bodies, and singers. It's funny, I came to musicals relatively late in my life, but they're always wonderful to revisit. As I said, this is my third Encores!, and stylistically so different from the other two. Promises, Promises, of course, is sixties Burt Bacharach, and Follies is that great Sondheim score, and this is Rodgers and Hart. This is the earliest period piece I've done here. It's just so great to revisit these old musicals and to be reminded of how great a team like Rodgers and Hart were.

Question: I think the last time I talked to you, you were doing Mame, and there was some talk of it coming to Broadway. Am I right to assume you wouldn't mind someday having a big hit Broadway musical?
Baranski: Well, who would mind having a big hit Broadway musical? [Laughs.] I mean, one of the issues, the main issue with Mame at the Kennedy Center –we did it with a full orchestra, enormous sets, and full chorus. Mame is a big, big show and deserves to be done on a grand scale. It's about a woman who lives large, and it's about creating a certain period and hearing all that brass and violins and all in the orchestra. As there was a lot of talk about bringing it in, there was not a Broadway theatre available that could accommodate us for very long. And then it became all about downsizing, and Mame is not a musical where we can play our instruments and play all the parts, you know what I mean? Except for those few notes of a bugle that Mame plays at the beginning, you can't do Mame-lite! So I was happy to have done it when I did it full throttle at The Kennedy Center. We did Sweeney Todd there, too, at the Sondheim Celebration, and that was also with full orchestra. It couldn't be more thrilling to sing those great musicals with full orchestra.