DIVA TALK: Catching Up With Two-Time Tony Winner and On Your Toes Star Christine Baranski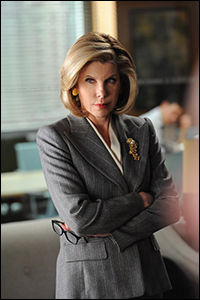 CBS

Question: When do you go back to "The Good Wife"?
Baranski: I'll go back in mid-July. After On Your Toes, I'll hopefully have a bit of a break and take some deep breaths. This is a perfect little springtime jounce, you know? It's just a lovely thing to do for New York — it's like a little love letter.

Question: So many great actors have been appearing on "The Good Wife." Is there any actor that you haven't played opposite that you'd really like to? Is there anyone on your list?
Baranski: Actually, I could name about ten people, but I'm not going to single anybody out. But there are still legions of great actors who I can imagine entering our world. Because it shoots in Brooklyn, we're just so lucky to have this revolving door on some of our great trained theatre actors who come in and do these amazing roles. Our show is known as much for the caliber of acting – featured actors that we have – as it is for anything else.

Question: Since Tony nominations are coming this week, I was wondering what are your memories of winning your Tonys?
Baranski: Oh my God. The first time I was just gob-smacked. I was pregnant with our first child when the Tony nominations came out for The Real Thing. By the time I accepted that award, I was six months pregnant, and it was time for me to get off the stage, but I definitely had trouble finding a gown to cover my emerging baby. I remember that Tony Award show in particular. I was so lucky because the first time I won a Tony Julie Andrews and Robert Preston were the hosts. I walked offstage having just won the Featured Actress award earlier in the evening, and I remember standing back against the wall just trying to catch my breath as Julie Andrews walked past me in these diamonds and black velvet gown saying congratulations. I just thought I'd died and gone to heaven. And, the second time I won a Tony Award Angela Lansbury hosted it and came out in a red dress singing "Everything's Coming Up Roses." It was beyond thrilling both times to have been in the presence of those serious Broadway legends. That's what I remember more than my winning an award is who hosted it and who was up on that stage. It was great.

Question: And, where do you keep your Tonys?
Baranski: Well, you know, we do have a little mantelpiece and a little fireplace, and they fit quite nicely there. [Laughs.] I don't highly feature them – they're not in the main room. I think that's a little tacky. I don't have pictures of myself all over. I don't want to keep bumping into myself, and I certainly don't want my children to keep bumping into Mommy and her various wigs, holding awards. I like when I'm home just to be Mrs. Cowles.

[Tickets start at $25 and can be purchased online at NYCityCenter.org, through CityTix at (212) 581-1212, or at the New York City Center Box Office (West 55th Street between 6th and 7th Avenues).]

Well, that's all for now. Happy diva-watching! E-mail questions or comments to agans@playbill.com.