DIVA TALK: Chatting With A Night with Janis Joplin Star Mary Bridget Davies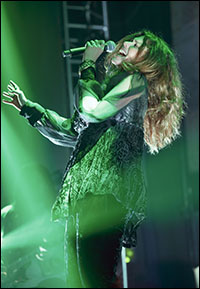 Photo by Joan Marcus
Question: When did you first become aware of Janis Joplin?
Davies: I knew about her my whole life. My parents are baby boomers, so that was their music, and in the best way they always had music going on in the house. So I was accidentally being schooled on blues, and rock and roll, and Southern boogie music, and soul music without even really knowing until I got older. Then I'm like, "I know all this stuff!" [Laughs.] So Janis has really been around my whole life. I've been her for Halloween a few times; it's a pretty easy costume for me. I was in high school, and we're eighties kids, and my friends thought I was Elton John, which I thought was amazing. I had the round glasses and the feathers, and I'm like, "You guys, come on, I'm Janis Joplin," and they're like, "Who's that?" And I'm like, "What do you mean who's that?" But that's because, you know, my parents raised me on rock and roll and their parents maybe not so much. [Laughs.]
Question: Was the first time you really delved into her work for Love, Janis?
Davies: When I first started singing, I realized I could capture some of her essence, and I thought, "Well, that's weird. Let's see if I can do that, let's see if I can repeat that." That's really what that is about - it's the longevity…. People joke, if Janis was around, what do you think she'd say [about my interpretation of her work], and my dresser says, "She'd probably ask Mary how she does it six nights a week." [Laughs.] Janis started as a blues singer fronting a rock-and-roll band, with Big Brother and the Holding Company, and as her career progressed, she became more and more a soul singer, which is what she wanted. And, I've always been more of a soul, blues singer. So when I started really sort of dissecting her library, in my late teens and early twenties, that's when I really got it…Janis Joplin sang that Bee Gees tune "To Love Somebody," and she killed it, it's amazing, who'd have thought? Just her interpretations of songs that already existed blew my mind, like Joe Cocker would do.
Question: When did you do Love, Janis?
Davies: I auditioned in 2005 November, and my first performance was the first of 2006, and I did that for a couple runs. We were in Cleveland, Aspen and San Francisco, then Kansas City. We were at The Alley, and then there was a tour, and it was over. By the summer of 2008 I was done with the show.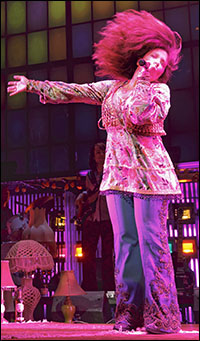 photo by Joan Marcus

Question: How do you think your portrayal of Janis differs now from when you were in that show?
Davies: I am far more informed as a human being in the world. I think it's just really seasoned myself, but it helps Janis. There's that fine line where you can become a caricature when you're playing her because she was kooky and she was batty. She was a batty broad - we love her for it. But she was really serious at the same time and very sultry at the same time. She was a very Earth Mother-type, but then in two seconds she'd blow it off with a Mae West delivery of one line… And, in the beginning I didn't really have the dexterity as an actor to do that…Everybody wants to talk to Janis. There's always someone in the show that's screaming at you from the crowd. So, even back then in the Love, Janis times, I'd be able to acknowledge them, wrap it up and shut it down, and keep going without hurting anyone's feelings or yelling or getting frustrated. So I was always able to do that, which is very Janis, so that always helped. But, yeah, the farther you go in life the more you see and the more you go through, the better it helps inform her because she was so intellectual, emotional, lonely, hilarious. Like we all are. We're all insane by the time we're 25 I think anyway! [Laughs.]

Question: Since you said that Broadway was your goal, what was your first night on Broadway like? How did it live up to what you thought it would be or how was it different?
Davies: …I'm always nervous to an extent, but this was like show-stopping nerves. And, I was… talking to myself, and then I started working myself up, like, "Oh God, I'm going to have an anxiety attack as soon as the panels open, and it'll be me and no sound, and I'll just be standing there, and there goes my Broadway career." And, in my head as Janis, I go, "Oh shut up, and just sing the damn show…" And then the panels open… boom. And, it was great. We were in the dressing room with my dresser and my stylist, and my whole family was there. We did a champagne toast in the dressing room while I'm getting ready. The press line is just a blur. All that stuff is just a blur, and I was home before one in the morning with my family, and I was like, "Mom, did that just really happen?" It was amazing to me. I couldn't have imagined it any better. Really, it was amazing.