DIVA TALK: Chatting With A Night with Janis Joplin Star Mary Bridget Davies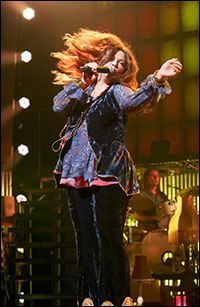 Photo by Joan Marcus

Question: In addition to the vocal demands, what are the challenges of the role for you?
Davies: The emotional and physical demands because you can't just put her on, and you can't just turn her off. You kind of have to let it seep in. There have been times where whatever you take as your ammunition from your life, what's going on and things like that, if you're having a bad day and you're out there wailing into some theatre, and then all of a sudden I feel a tear in my eye, and I'm like, "Wait a minute, what are you doing, you can't do that." Crying is the king of knocking out my voice, hands down. It's such a physical performance, from ducking and weaving and bobbing up and down, and squatting, and the way she's throwing her head. It's become second nature to me, but it's still totally ripping my body apart. [Laughs.] At the end of the night when I go to put on my snow boots to go home, I bend over and hold that stretch and I'm like, "Oh, that's great." [Laughs.]

Question: Do you have a favorite moment in the show? Is there a song or something you look forward to?
Davies: There are a few. The one that doesn't have to do with me is when our Bessie Smith comes out. She has her period costume on, and people just lose their mind, and she hasn't even started singing! That I just love because Janis did love those women so much. We took that angle of who she was as an artist and not "Oh, you know, she died of an overdose, and it was really sad, and she was a big partier." That story's been written a hundred times. When the girls sing "I Shall Be Released" and I come on to sing "Bobby McGee," I'm just moved to no end. Because I come out, lights come up on me, and the crowd is different. It's not just the party, it's not just the "Now, Janis is going to say something funny." There's more of an emotional connection with the crowd for the rest of the show, which makes "Ball and Chain" amazing. There've been independent moments, in shows, that have been amazing, but you can't duplicate them night after night. It has to do with people in the audience.

Question: When you go to sing, not in the show but as yourself, is it ever difficult to find your own voice?
Davies: No, actually, it's refreshing. She hasn't changed me. She influenced me, and I'm always grateful for that. But I haven't started morphing into some Janis Jr., which is nice, and when I am up on stage doing my own stuff, I surprise myself because there are things I do vocally that Janis wouldn't do, and then it comes out naturally, and I'm like, "Woah, that's so cool." I'm still learning, and moving, and shaping everything and surprising myself. It's few and far between that I get to do it anymore, but when I do, it feels really good.

Question: What would you like to do following this? Where do you see your career going from here?
Davies: Oh, well, anyone that watches "30 Rock" knows, all of our plan in the show is we're going to "EGOT," which is an Emmy, Grammy, Oscar, Tony. You know, keep it small! [Laughs]. We were joking, "Could you imagine?" We just finished our cast album two weeks ago, so that's what we were joking about. So that's the foremost thing right now: "What if we get a Tony for the show and a Grammy for the album, and they run it on TV and we get some default Emmys, and then they turn it into a movie and we get Oscars?" We were just going in, and I was like, "Why not have lofty goals like that?" Because this is the type of business where you can do anything. You can achieve everything. It is actually possible. We work in a magic factory - in entertainment anything is possible, so why limit yourself? So that's kind of how I feel.

[Tickets are available through Telecharge.com or by calling (212) 239-6200. The Lyceum Theatre is located at 149 West 45th Street.]

Well, that's all for now. Happy diva-watching! E-mail questions or comments to agans@playbill.com.

*

Diva Talk runs every other week on Playbill.com. Senior editor Andrew Gans also pens the weekly columns Their Favorite Things and Stage Views.