DIVA TALK: Chatting With Arlington Star Alexandra Silber


Alexandra Silber
Alexandra Silber, who made her Broadway debut opposite Tony and Emmy winner Tyne Daly in the Manhattan Theater Club revival of Terrence McNally's Master Class, can currently be seen Off-Broadway in the Vineyard Theatre's production of the new musical Arlington. Featuring book and lyrics by playwright and novelist Victor Lodato and music by Polly Pen, Arlington, which will officially open March 2, casts the up-and-coming singing actress as Sara Jane, a young wife who tries to remain hopeful while her husband is away at war, despite a growing concern that something is not quite right. Directed by Carolyn Cantor, the production also features Ben Moss (Bunked, Spring Awakening) as Pianist. I recently posed a set of questions to Silber, whose theatrical credits also include the Off-Broadway revival of Hello Again and the West End productions of The Woman in White, Fiddler on the Roof and Carousel; her responses, via email, follow.
Question: Where were you born and raised?
Alexandra Silber: Born in Los Angeles and raised outside Detroit, MI.
Question: At what age did you start performing? (What is your earliest memory of standing on a stage?)
Silber: My first memory on stage was as a butterfly in a ballet recital. My first memory of being in a play was as (prepare yourself) Miss Hannigan… I was eight. It was most likely an inappropriately accurate, gin-soaked carbon-copy of Carol Burnett's performance down to the vocal inflection, but still… I was hooked.
Question: When you were growing up, were there any actors or singers you particularly admired or who influenced you?
Silber: Absolutely. I grew up on classic films — so the old greats were my influences. Danny Kaye, Angela Lansbury, Bing Crosby, Gene Kelly, Leslie Caron and Cid Charisse. As a soprano, I definitely learned a great deal from Barbara Cook, Julie Andrews, Helena Bliss and, more recently, Judy Kaye, Audra McDonald and Rebecca Luker. I often say Rebecca Luker taught me how to sing — which, of course, she did not literally do, but in many ways it is very true.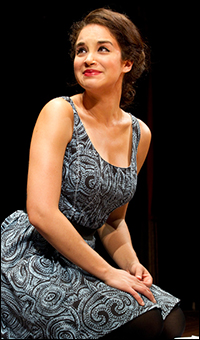 photo by Joan Marcus

Question: Do you remember a point when you knew performing would be your career rather than a hobby?
Silber: Hmm. No.…Wow, this is a very interesting way to phrase the question—both words don't entirely resonate with me. You know, even though I was never a child professional, I don't believe I ever viewed art as a "hobby" or had specific dreams about a "career." In some way my relationship with the arts always felt lifelong. I still feel that way: that my life is dedicated to a lifelong artistry that includes all the facets of my life.

Question: What was your first professional production?
Silber: My first professional job was replacing Jill Paice as Laura Fairlie in the West End production of Andrew Lloyd Webber's The Woman in White. I was 21 and fresh out of my final year of drama school in Glasgow.

Question: You made your Broadway debut in Master Class. How did your first night on Broadway compare to what your expectations of being on Broadway would be?
Silber: It was two things— everything I dreamed of, plus [an] inexplicable fountain of more. As well as— just another wonderful show. One like countless magical others. The fact that it was both of those things makes me smile even remembering it. I was very lucky to have had a Broadway "big sister" in Sierra Boggess (who literally did everything in her power to make it the most magical, Quinceañera-Prom Night-Bachelorette Party-esque event of my life), as well as Broadway "Mama" Tyne Daly, who did the same (but with less glitter).

Yet, after the magical evening, the party, the press and all the fuss, I will never forget going to Galaxy Diner and eating an omelet in my gorgeous dress with my mom, my agent, manager and Kevin, one of my oldest friends from high school. It is all just life — from the sublime to the simple. It is all divine. Especially when 24-hour omelets are involved.