DIVA TALK: Chatting With Forbidden Broadway Star Jenny Lee Stern


Jenny Lee Stern
After a three-year absence, the musical revue Forbidden Broadway is Alive and Kicking at Off-Broadway's intimate 47th Street Theatre, and Gerard Alessandrini is once again sending up both Broadway shows and some of its most unique stars, all while introducing audiences to four multitalented actors who portray numerous roles throughout the evening. Heading the current cast of the Off-Broadway institution are Natalie Charle Ellis, Scott Richard Foster, Marcus Stevens and Jenny Lee Stern. I had the chance to chat with the latter, who is called upon to offer her versions of Patti LuPone, Bernadette Peters and an especially lively Judy Garland, among others, earlier this week. Stern spoke about her audition for Forbidden Broadway, the show's intense rehearsal process and her marriage to fellow actor Jeremy Kushnier, who returns to Broadway's Jersey Boys next month; that interview follows.

Question: How did Forbidden Broadway come about for you?
Jenny Lee Stern: I first had my taste of Forbidden Broadway [about] 12 or 13 years ago when I went in for a random audition. I auditioned and got called back and didn't really think much of it. And then had some friends go in and out of the show over the years and then a very close friend. So when it was coming around again, I was like, "Oh! Maybe I should try and get in on that," so I got an appointment and went in and did my thing.

Question: What is the audition process like? Do you have to do impersonations?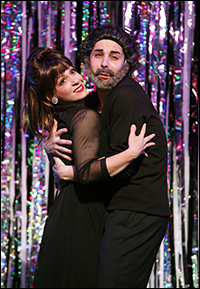 photo by Carol Rosegg

Stern: First of all, it's very last minute—not from lack of organization on their part, I don't believe—but sort of just to keep it really fresh. Literally, got the call the night before, and they wanted to hear the standard uptempo, ballad, classic musical theatre—the more classic, the better—to make sure everybody was a legit singer because the range in this show… it's obscene what we have to do vocally! [Laughs.] And then they had a list of names for the women and men to keep in mind of… "We're not necessarily looking for skilled impersonators, but if you have impersonations of these people or others, feel free to bring them in." … So you just sing your song, and then it's sort of like rapid-fire, machine-gun names [thrown] at you, and you're like, "Okay!"… "Sutton Foster. Kristin Chenoweth. Catherine Zeta-Jones. Judy Garland. Liza Minnelli. Patti LuPone." And, you give them a snippet. Now, I'm speaking for myself. That's what I did. There were definitely people that I heard in the room who had full charts written out of a medley that they do. And, that's not what I do, so I didn't do that… I'm more of an improv actor, so I just gave them little snippets, and I guess it worked!

Question: Had you ever done anything like this before, any impersonations?
Stern: I keep saying no, but then I think my dad would disagree with me, and he'd say that I'd been doing it since I was three years old. Everybody that we'd meet in the grocery store, like the checkout lady at the mall or your grandma or your aunt or the kids at school… I guess I've always just had a knack for mimicry and just have an ear for it, so I say, "Oh, gosh. I've never done impersonations before," but I guess it's the opposite. I'm sure I probably speak in my own voice only 30 percent of my life, and the rest is I'm putting on an act. [Laughs.] But this, this is a completely different skill. Even if I was an impersonator, you're mimicking someone's voice from a movie or a TV show or a recording… But in our case, with the parody lyrics, it changes the vowel sounds of the words, so it's a different skill… As opposed to doing a spot-on vocal mimicry, you're sort of looking for elements of that person that make that person who they are, whether it's a vibrato or a droopy eye or a facial expression or the way they hold their body. It's definitely a different skill than just pulling out Aunt Diane's one-liner or something like that.