DIVA TALK: Chatting With Forbidden Broadway Star Jenny Lee Stern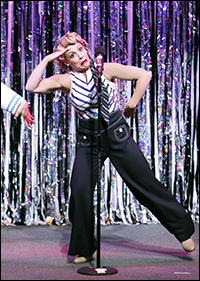 Photo by Carol Rosegg
Question: Once you got the part, what was the rehearsal process like? I know there's a lot of material that doesn't make it to the final version. How much makes it? How much doesn't?
Stern: Well, I couldn't even give you a percentage. We had 50 previews before we opened, which is a lot. And, the show from performance one to opening night is completely different. And, the show within those 50 performances, I would say changed on the average of every three days. I always say that the audience is our sixth company member and probably the most important. We count on them to see what works. There's five of us on stage and then Gerard and [co-director] Phil [George] and the audience and the swings of course… Hearing the same jokes over and over, we're like, "I don't know. Is this funny? Is this funny? Is this funny?" And, we're like, "I guess we'll see tonight." So it's an insane process, but an incredibly rewarding process for an actor…and humbling and amazing because you do have a lot of control. You have a lot of input and you get to really be part of the creative process—even more than in a new scripted show that goes up. I don't know, it's like really all of our own blood, sweat and tears going into it, so when something hits, it's that feeling that, "Wow! I helped create that, and there's 199 people crying, you know, pooping-their-pants laughing right now." But the same is true when 199 people are staring back at you like you have a wee-wee growing out of your forehead. [Laughs.] What?! Egg dripping all down your face, and you're just praying for the blackout! It's harsh and the most amazing experience and can be the most devastating experience within 16 bars of the song. [Laughs.] So the process is unlike any other, but in the end—opening night—I'm confident that, yeah, we definitely have the best show possible. We talk all the time about, "Hey, remember Hugh Jackman? Hey, remember when Diane Paulus had a song?" [Laughs.] There's all kinds of hilarious things like that. It was not that long ago, but to us it seems insane that those things even happened…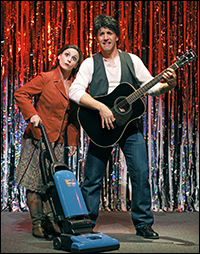 photo by Carol Rosegg

Question: Was there any skit or song that you were sorry to see go?
Stern: Things go for different reasons. We did a Christian Borle number in the show. I actually wasn't even in it, a Peter and the Starcatcher number, and Marcus' impression of Christian in that show was spot on. Scott's impression of Smee was amazing. Natalie did this ridiculously brilliant Mary Martin as Peter Pan, and it just didn't land for whatever reason. I don't know if Christian Borle is not enough of a household name for people to relate to… So just because they were all so awesome in that, that was—I'm not sad, like I'm crying about it—but that was a bummer to see that go. But, please, nobody wants to be on stage [and have the number fail]. People always ask, "What's your favorite number to do in the show?" And, my answer is, "Whatever the audience's favorite number is that night!" That's how much they have to do with it. There's no fourth wall, and you're completely exposed. We might as well be up there just naked in wigs because it's us. Whatever they like, I like that night—that's my favorite number of the night.

Question: What are the impersonations or skits that you're proudest of?
Stern: That I do? Well, I'm completely and utterly flattered and blessed by what I get to do in the show. Also, that's the responsibility that's been put on me through these ridiculous divas that I get to impersonate and hope come an inkling close to what they can do. I mean, I do Patti LuPone, Bernadette Peters, Judy Garland, and then I do Cristin Milioti from Once and Sutton Foster and Elena Roger. So it's a good kind of mix… I do Megan Hilty. I do Frankie Valli, so I have a great variety, but in the same sense, they're all sort of in the same vein of something that wouldn't be a ridiculous stretch for me… I worked extremely hard on the Judy Garland impression. It actually started out as a Tracie Bennett number. I had an amazing time doing that number, too, so that was also kind of sad when that didn't land because I was just completely obsessed with her in that show… As soon as I sat down, within the first two minutes of sitting in the audience watching End of the Rainbow, I was like, "Oh my God, I know exactly what I'm doing with this woman." And, I felt like it was totally spot on and totally true, and then we just ran into the problem again that not enough people had seen that play and not enough people know the name Tracie Bennett in everyday vernacular. So what it kind of looked like was I was doing Judy Garland on crack, which is sort of what [Bennett] was doing, but then I was taking it to the next level, so it was kind of becoming a copy of a copy of a copy, but I did love doing her. So now the number is Judy Garland speaking to Tracie Bennett and then kind of Judy Garland doing little tidbits of Tracie. It sounds more confusing, but it actually works better because what people want to see, ultimately, is Judy Garland and not be confused. So I lived and breathed, streamlined Judy into my veins via my iPhone for weeks just trying to get the timbre of her voice and watched tons of videos and stuff. I'm proud that that process is over and now I can live her, and she's been getting good reception so that makes me happy.