DIVA TALK: Chatting With Forbidden Broadway Star Jenny Lee Stern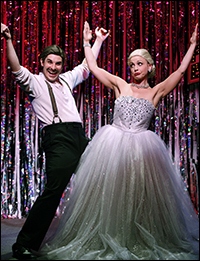 Photo by Carol Rosegg

Question: How demanding is the show?
Stern: You know what, I have to be honest. This is by far the most demanding show I've ever done. I think it's obvious that we work hard, but you know, when you really break it down, it's a lot. A normal book show for any character, no matter how difficult the role is, Eva Peron, Christine in Phantom, Judas in Jesus Christ Superstar… There's a natural arc to the score, you know, in a brilliant score like that, and you're sort of singing in the same cut of meat, so to speak, of your voice. But here, even though it's kind of balanced that Natalie sings more of the legit-soprano stuff and I sing more of the alto-belt stuff, you're manipulating your voice in so many different ways—and, in essence you're singing every single person's 11 o'clock number! Sometimes we're sitting back and doing backup or whatever, but whenever you're offstage, you're rapidly changing—wigs, lipstick, shoes, costumes, underwear—and there's not even a lot of time to get into it, so you just have to be ready for everything. That's been a challenge. And, rehearsals, we were rehearsing every day during previews. I have to say, it does definitely take its toll, so you have to stay really focused and hydrated. We have so much fun, so it takes a lot of the pressure off of it. I think people, just my opinion, in this business, vocal problems and that kind of stuff comes from stress. It comes from you're in this position, "Holy sh*t, I'm playing Eva Peron… I'm playing whoever," and it goes straight to your throat. We also have the luxury of hiding behind the veil of [some known actor], and be like, "That's not me. That's what she sounds like." [Laughs.] You take that pressure off [by] the fact that people come to our show to laugh and have a good time. If I'm like a quarter under pitch or something, if someone's going to get upset about it, I'm certainly not going to get upset about that. If somebody's going to roll their eyes and walk out over that, well then they're at the wrong show. And, that's just for me. I mean, our cast has brilliant voices, and most of the nights, I bow to their musicianship because I'll always take an armpit fart over like a perfect vibrato! [Laughs.] That's just my point of view, but you know, just the fact that we're having so much fun makes it so much more relaxing so there's not the stress of like, "Oh my God, I can't have a cup of coffee or a glass of wine…" It's demanding, and we do our best.

Question: Tell me a little bit about working with Gerard.
Stern: Of the cast, I am known as "The Gerard Whisperer" because I just love Gerard. [Laughs.] He has this style that is all his own, and you can take it or leave it, and honestly, I'll take it! I think he's brilliant. I mean, I think he's a genius. There's a lot more that goes into this level of parody writing than just, "Grandma got run over by a reindeer… Jingle bells, Batman smells…" It's a totally different animal. He puts so much work into it. He's so specific, and that's like me. Maybe that's why I can relate… I'm a perfectionist. I want it to be right, and he wants it to be right, and he's been at this for so many years, and he's got this reputation to uphold, so I'll take him as he is—quirky and otherwise. I just think he's an amazing talent, he's a great supporter, he's been very supportive of me personally in this show, and I think at the end of the day, you're like, "Really? You want me to say what?" And, dang it! He always seems to be right. The lines that he throws out! "Gerard, I'm not saying, 'I'm a turkey who's basting'," and then it gets a huge laugh in the show, so you never know. He's just a big teddy bear. He's very warm, and I've had the privilege of doing some one-on-one press events with him, and he's very eloquent. I'm just really honored to be working with him and in this production in general. It's very humbling.

Question: You've done productions in Chicago, Toronto, national tours, but you haven't been on Broadway yet…
Stern: I have not been on the real Broadway yet, no.