DIVA TALK: Chatting with How to Succeed's Tammy Blanchard



Chris Callis
TAMMY BLANCHARD
Emmy Award winner Tammy Blanchard returns to Broadway Feb. 26 at the Al Hirschfeld Theatre in the high-profile revival of How to Succeed in Business Without Really Trying, which boasts "Harry Potter" and Equus star Daniel Radcliffe as J. Pierrepont Finch with Emmy Award-winning actor John Larroquette ("Night Court") as World Wide Wicket Company president J.B. Biggley. Blanchard, who made her Broadway debut in the title role of the Bernadette Peters revival of Gypsy, is cast as as office bombshell Hedy La Rue in the upcoming staging of the Frank Loesser classic, which features direction and choreography by Rob Ashford. Earlier this week, I had the pleasure of chatting with the sweet-natured Blanchard, who won her Emmy for her performance in the TV miniseries "Life with Judy Garland: Me and My Shadows." The singing actress, who is also mom to three-year-old Ava, spoke about her Broadway debut and her newest role; that brief interview follows.
Question: Let's go back to the very beginning. Tell me where you were born and raised.
Blanchard: I was born in Jersey City and raised in Bayonne, New Jersey. It's a town that's next to Jersey City, and I'm still there!
Question: When did you start performing?
Blanchard: I was about eight or ten. I've got to find out exactly what age I was, [laughs] but it was in grammar school, and my first solo was "Somewhere Over the Rainbow," in front of a school audience. And ever since then, I've tried to do every play I could get the lead in. [Laughs.]
Question: When you were around that age, were there any singers or actors that you particularly admired?
Blanchard: I was always in love with Judy Garland, and when I was growing up, I fell in love with Leonardo DiCaprio, of course. [Laughs.] And, Shelley Long – I used to love watching her in "Cheers." Those are the major ones that stand out to me [from when I was] a child.
Question: How did your love for Judy Garland happen?
Blanchard: I think it really happened [from] singing that solo from when I was very young, in grammar school, and I always loved "The Wizard of Oz," of course, and Dorothy [and] that movie. Every kid does — I mean, my daughter watches it over and over again already. But when I sang that song and I felt what I believe she was feeling as a child, it just gave me such hope, and I just fell in love with her, with singing that song, really.
Question: When do you think performing changed from being a hobby to when you knew it would be a career?
Blanchard: Wow, that's a good question. Maybe the first commercial I did. It was a Clearasil commercial, and I had auditions for many things and I wouldn't get [them], but then I finally got this Clearasil commercial and I got my paycheck and I realized, "Hey, maybe I could do something here."
Question: How old were you at that point?
Blanchard: I think I was maybe 16, 17.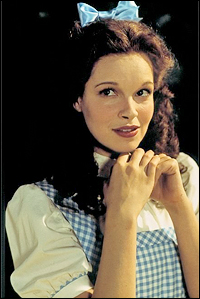 photo courtesy ABC

Question: How did "Life with Judy Garland" come about?
Blanchard: I had been working with Patti D'arbanville on "Guiding Light" for three years, and she introduced me to her manager... who became my manager, and he walked to my dressing room and he saw "Somewhere Over the Rainbow" painted all over my room. I said, "If you ever find that they're doing a movie on Judy Garland, I want to play her." And, a couple of weeks later he walked in with Variety magazine, and they were doing an open call. I went in … and then the second time I went in, the great Neil Meron and Craig Zadan [who are now her <i>How to Succeed</i> producers] were there. I auditioned for them the second time, very nervously, and Neil — I'll never forget it — he looked at me, and he asked me if I'd studied Judy Garland all my life. And, I just knew from his very look that I got that part!

Question: What was it like for you, having been such a fan, to then get to play her in this high-profile project?
Blanchard: It was like heaven on earth, I guess you could say. It [was] a dream come true, something that you would never expect, but you're being prepared for it all your life and you don't even know it, and then that moment finally comes, and it's just heaven on earth.

Question: Was it at all surreal when you were dressed as Judy Garland, re-creating her?
Blanchard: Yes, it was. They plucked my eyebrows off for two hours. I went into the hotel room in Toronto, and I looked at myself and I was unrecognizable. I just called my mother, and she drove 16 hours [laughs] to get to me in Toronto. She drove the wrong way, so she had to drive another eight hours to go the right way to get to Toronto for me because I was terrified. I knew that I had looked like her, I knew that I loved her, I knew that I had her down, but then that moment — looking in the mirror and being unrecognizable – I was just so scared. I needed Mommy! [Laughs.]

Question: What was it like winning an Emmy?
Blanchard: I was in Winnipeg shooting "We Were the Mulvaneys," and I had a big huge rack of lamb in front of me for when I lose, and I was just going to eat my sorrows away. But then they said my name, and I just was screaming and jumping on the bed, and the cast from "We Were the Mulvaneys" came running in my room, and it was such a great, magical moment, and I'm glad that I wasn't there because I don't think I was quite ready. I think I would have just gotten on the stage and just bawled. I wouldn't have been able to say anything at that point. [Laughs.]

Question: How old is your daughter?
Blanchard: She's three.

Question: You probably haven't shown her the Garland miniseries yet, or maybe you have...
Blanchard: No. I'm easing her into what I do. I'm just talking to her, saying, "You know, when I go to work, I act. I'll show you some pictures of how I dress up." And, I've shown her pictures of me as Judy Garland and she'd say, "Dorothy." And I'll say, "No, that's me," and she'll say, "No, that's Dorothy," and we'll go back and forth. But she's easing into realizing that I play characters for a living. [Laughs.]