DIVA TALK: Chatting with Junie B. Jones' Jennifer Cody, Your "Idol" Thoughts and News of Peters


JENNIFER CODY
It's certainly a busy time for singing actress Jennifer Cody, who is currently starring in the title role of Theatreworks/USA's family-friendly musical Junie B. Jones, which is playing a limited engagement at Off-Broadway's Lucille Lortel Theatre through May 4. Following her run in the acclaimed Marcy Heisler-Zina Goldrich musical, Cody will join Rosie O'Donnell, Beth Leavel, Sandy Duncan and Mara Davi in the City Center Encores! production of No, No, Nanette, which runs May 8-12. Then, Cody — whose Broadway resume also boasts Cats, Beauty and the Beast, Grease, Seussical, Urinetown, Taboo and The Pajama Game — will begin rehearsals for Shrek The Musical, which will make its world premiere in August at The 5th Avenue Theatre in Seattle before bounding its way into New York's Broadway Theatre in November.

I recently had the pleasure of chatting with the comedic actress about her upcoming projects and her work in Junie B. Jones. About Cody's performance in the latter, Junie librettist-lyricist Heisler told me earlier this week, "In the finale, Junie sings two lines very close to my heart: 'In my insides, there's an avalanche of feelings, In my head there is a pile of dreams come true.' I think Jen is the perfect personification of huge dreams in a small package. Not only did she make me laugh and cry — she made me laugh and cry in unexpected places. She allowed me to rediscover a character I thought I knew inside and out. And that was a big gift." My interview with Cody, who resides in Manhattan with husband Hunter Foster and their two shih tzus, follows.

Question: How did the role in Junie come about for you?
Jen Cody: I actually got a phone call from the Theatreworks producers. I had done a show for them last year, Henry & Mudge. I was supposed to do [Junie] a couple of years ago when it was first starting, and some other job came up, so I never actually did it. I was always familiar with it, but not with the books at all. I got a phone call asking if I was interested, and I went to the library and read all of the "Junie B" books, and I found myself in the library just laughing out loud. I was totally unaware of this character. The books, I thought, were so well written and funny for adults. I called them and I said, "I would love to be her because she's great!"

Question: Do you know how much the show has changed since the last time it was presented?
Cody: I'm not sure. I remember when I first sang for it — gosh, this has to be four years ago now — I remember falling in love with the music. The music is all the same. When I took the job, I said to the director, "I have a different way sometimes of finding the comedy in someone." They were so great with it in letting me kind of find her in myself and play around with it. I think Peter [Flynn], the director, does that well. He doesn't pander to children. He does a lot of [the Theatreworks/USA] shows, and I knew from Henry & Mudge that that's how he worked. I feel like he let the new cast create our own version of it.

Question: The reviews were really good.
Cody: I haven't read any! But I hear that they're really good. [Laughs.]

Question: Is there any talk of extending the run?
Cody: I can't extend. I'm actually going from this into Encores! [No, No Nanette] and then into Shrek. So this is definitely going to be over, at least for me, on May 4.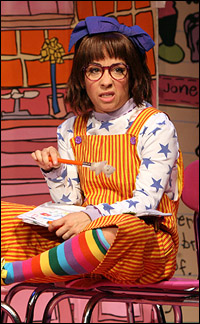 photo by Joan Marcus

Question: What has it been like performing for young audiences?
Cody: I have to tell you, they are the most honest crowd. It's very funny in that, not only do they know these books word for word, but I feel like you have to go into it being open and honest because they know from the first downbeat if they believe you. It's a little intimidating, but it's also refreshing because you have to go out there and just be. If you're honest, they're going to love anything that you do. I just love it. They tell you their opinions. They come to the stage door. There's always a ton of children, and they want to hug you and touch you. Some of them are very shocked that I'm not six! [Laughs.] I come out and I have blonde hair, and I think that throws them a little bit. I've kept to leaving a hat on because I think it throws them a little too much.

Question: Since we haven't spoken before, I wanted to go back a little bit. Where were you born and raised?
Cody: Upstate New York — in Henrietta, New York, outside of Rochester.

Question: When did you start performing?
Cody: As a kid, I was always in all of the dance competitions.

Question: Did you start as a dancer?
Cody: I did. And then when it came down to picking colleges, I had a whole reality check. I can't remember who said, "But you're only five foot tall," and I said, "Oh, I must be an actress then!" So I went to school for acting, and thank God, because that's the basis of everything.

Question: Where did you go to school?
Cody: Fredonia State University.

Question: When did you know that performing would be your career?
Cody: I think I kind of knew as a child that this was what I was going to do. Of course, that's what I said all the time. I never, ever wanted to be anything else. I was never one of those kids [that said], "I want to be a veterinarian!" My parents always said — because I used to dance around a lot and take off my clothes — "Well, she's either gonna be onstage or in a cage. Let's hope that the stage thing works out." [Laughs.]

Question: When did you come to New York City?
Cody: When I was in college, I got a tour of Gypsy. I toured for a year. I came to the city, I think, in '93. I was here four weeks, and I got Cats.

Question: What role did you play in the Gypsy tour?
Cody: I was Dainty June.

Question: And who was your Rose?
Cody: Mama Rose was a woman named Carla Hamilton Shiles.

Question: Do you remember what it was like making your debut on Broadway in Cats?
Cody: I had seen Cats as a kid, and I remember saying, "I'm gonna do this someday." I was at an open dance call for Guys and Dolls . . . [and] we had an index card and we had to put our name and our height on the card. We went up and danced, and Vinny Liff at the time was alive and a casting director. I was obviously much too tiny for the show, and he kept my card. When he called Equity, I wasn't union, so he couldn't find me. He was walking down the street two days later, and there was an ad for a benefit show I was doing, and my name happened to be in the ad. He said, "That's the name!" They called over to the theatre…and I didn't know who Vinny Liff was at the time. They left me a message and I said, "You guys, this man keeps calling me to come in for Cats. Anybody know Vinny Liff?" And they're like, "Go!" So, a couple of days later I went into the Winter Garden on the stage and I couldn't believe it. I kept laughing the whole time I was there because I couldn't believe where I was. The dance captain at the time was in the audience and he said, "Do you know who you're auditioning for?" and I said, "Nope," and he goes, "Oh, my God!" And, I got the job.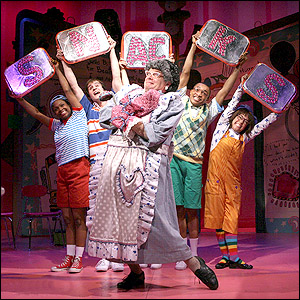 photo by Joan Marcus

Question: How long did you stay in Cats?
Cody: I was in Cats for a year — on the tour, I was there for seven months and on Broadway I was there for four months, and then I got Grease.

Question: Do you have a favorite Broadway experience so far? You've done so many shows.
Cody: I've been really, really lucky. I've done bad ones, too, though. [Laughs.] I think my favorite theatrical experience was The Wild Party Off-Broadway.

Question: Why is that?
Cody: I think that it was such an ensemble cast. It was the kind of show where you never left the stage, so for that two hours you were in it, and it was a moment-to-moment show. It was never [a show] where you did something then went offstage and waited. Everyone was really kind. . . . Urinetown was also an amazing experience. I've had some bad ones, too. [Laughs.] There's been some nightmares, but you take something from every show.

Question: When did you and Hunter [Foster] meet?
Cody: We met on Cats, and then after Cats we actually did Grease together, where we got married. And then we did Urinetown together. We also did Snoopy together. We've been very lucky in that we've had the opportunity to work together often.

Question: Do you like working onstage together?
Cody: I do. I think it's fun to do projects that maybe aren't so long-running, because there is something about living together, going to the theatre together, having the same issues at the theatre…you know. [Laughs.] Urinetown we were in it a long time together, but it's great. I think he's a great actor, so it's nice to share the stage with him.

Question: Do you think it's easier being married to another actor, somebody who knows the demands of the career?
Cody: I don't know because I've never not been with Hunter. Since I've been in New York, we've been together. I think there's good and bad to [both sides]. I'm sure that things I find great about having an actor as a husband, there'd be equal things about having someone who's not in the business.

Question: What are your memories of working on Taboo?
Cody: Taboo! Wow, you pulled that one out! [Laughs.] Taboo was interesting. I feel with both Taboo and Seussical — because they both have kind of the same pitfalls — that I thought the material was really great, and I think I found, in both of them, how truly important a director is and how a unified vision is really important. Both of them lacked that, and it was very sad because, in both cases, I thought the material was really wonderful, and it just didn't have the opportunity to be realized. I had worked with Rosie [O'Donnell] a few times, so I'm like the mouth that goes back to Rosie. Because, you know, everyone's afraid of Ro' and I'm the one saying, "Wait a second, you can't talk to us like that!" [Laughs.] I think we have a respect for each other. I'm excited because she's also doing No, No, Nanette.

Question: Who will you be playing in Nanette?
Cody: Betty "from Bah-ston." I don't really know the show, but that's who I am! [Laughs.]

Question:. And how about Shrek? When will you start working on that show?
Cody: We start rehearsals June 5, I think. We did the eight-week workshop.

Question: How's the score to Shrek?
Cody: It's great. Well, there's so many good things about Shrek in that, one, there's a lot of money involved, [which allows] the opportunity to do things right. We did an eight-week workshop where, for three weeks, we never got up from our chairs. We just talked about the characters and talked about how they spoke and how they sang. You never get that opportunity anymore. . . . We have a full 20-piece orchestra. I love it because every character has a different voice. There are some that sing soulfully and some that sing rock and some that sing musical theatre. I think it's a very unique score. I think everyone will have their opinions about whether that works or doesn't work, but [composer] Jeanine Tesori is a brilliant woman. And, David Lindsay-Abaire is doing the lyrics for the first time. He's never done lyrics before, and he's such a smart, witty man. They're really smart lyrics.

Question: Who are you playing in the musical?
Cody: As of the workshop, I was the Asthmatic Elf. What they did was they hired 13 of us, and we all got to sit around and develop characters based on fairytale creatures and make our own stories. They've woven these stories in so that no one is one-dimensional. Everybody has a relationship to both Shrek and the princess, so it's not like the movie, where it's just about them. It's actually about a whole world of freaks, basically.

Question: Have you seen any of the costume designs or set designs?
Cody: I've seen the sets. It's amazing. Again, because they have money, Dreamworks — I guess they just go to these talented people and say, "Show us what it's going to look like!" They do these crazy mockups of animated screen things on the computer. The set is so much like a movie in that the trees actually grow leaves throughout the show. It's truly spectacular! If it looks like it did on the computer, it's going to be like nothing anyone's ever seen.

Question: I know you've done some directing. Is that something you would like to do more of?
Cody: Yeah. It's funny, I always thought I would be a choreographer because I do like to choreograph and have choreographed a lot of shows.… I don't know if it's coming from an acting background, but there's something so fulfilling to have an actor and be able to give him words to create something from what he has [been given in the text]. It's such an interesting tidbit that I didn't focus on so much, about how you can work things to get everyone together and create this picture together. So I would definitely like to investigate avenues like that.

Question: Have you gotten to see much theatre this season?
Cody: I have. I've seen Passing Strange. I do the Little Sally character at the [Easter Bonnet Competition], so I try to see everything as I'm writing, so as not to leave anybody out. [Laughs.] I saw Passing Strange, I saw Gypsy, I saw Cry-Baby. I saw Sunday in the Park. I've got a couple more to see before April 28.

Question: Do you enjoy doing the benefit each year?
Cody: I do. I always find it fascinating that they call again. I do it, and I think, "Well, that was really great," and then they call and say, "Are you gonna do it again?" and I think, "One of these times, people are just gonna boo me off the stage!" But people seem to like to hear the dirty parts. I don't know what that is, if it's our society or . . . [Laughs.]

Question: Is there anything you've seen this season that really stood out for you?
Cody: In a good way or a bad way? [Laughs.]

Question: In a good way.
Cody: I had seen Sunday in the Park in London, and I was blown away by the two of them. I was so excited to see Jenna [Russell] again here. I was kind of sad that it was in such a big theatre. The part that I loved in London was that she was three feet away from me and so subtle, and I don't think she was allowed to do that here because none of it would have played. . . .And Passing Strange — I have to say I went in not having any clue, and I thought it was cool and unique and different. I'm probably one of the minority, but I also really liked In My Life [in 2005]! Not for the reason that I thought it was good, but I thought, "You know what? Whatever they can say, they didn't copy anything!" They're all unique ideas. You can question what kind of unique ideas, but at least I was always surprised. I just like to be surprised.

[Junie B. Jones plays the Lucille Lortel Theatre, which is located in Manhattan at 121 Christopher Street. Tickets, priced $25, are available by calling (212) 279-4200 or by visiting www.ticketCentral.com.]