DIVA TALK: Chatting With Lady Day Star, Tony Winner Dee Dee Bridgewater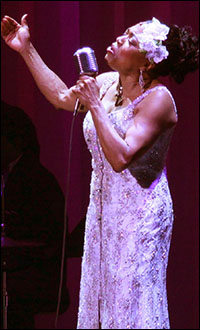 Photo by Joseph Marzullo/WENN
Question: What is the challenge of playing someone who is so well-known?
Bridgewater: The challenge, for me, is the whole thing, just portraying her. The way that Stephen has written the play—I feel like I need therapy from doing it this go-round. [Laughs.] I feel like I'm on some kind of rollercoaster… The producer [Tom Gentile] is just an amazing man, and he has insisted I have a personal assistant now… [He said], "You're going to need somebody to help you out so you can rest, run errands for you, do whatever you need done done." I'm just in the whirlwind of doing the show and trying to be true to Billie, because I want people to have a better understanding of who this woman really was and all of the things she went through and how complicated her life really was and how she was just trying to cope in her own world… So, yes, dealing with her this time – it's rough. She's rough. She's a very strong woman to have endured everything she did in such a short period of time… But I'm very pleased with the reaction we're getting from the audience every night, and I'm really beginning to see how I'm going to have to steel up. In some of these shows already people are talking to me… When I'm telling some of these stories in the second act, they start talking back to me, and it'll throw me off. And then yesterday in the matinee, somebody's phone went off toward the end of the show, and the person answered the phone! They were having this conversation, and I was thinking, "You're kidding, right?" [Laughs.]
Question: I was wondering what stands out for you about your run in The Wiz since that's what most theatre fans know you for.
Bridgewater: Just the doing of the show on Broadway and the kind of care that we had in the theatre—a lot of us in that show were novices. We had a makeup person for everybody, who taught everyone how to do their makeup and really spent the time with us individually. The actual camaraderie that existed because it was our life doing that show, and we had the luxury of doing out-of-town tryouts of that show for six months before we came to Broadway. And, Gilbert Moses, who became my second husband out of that, was the original director and what ended up on Broadway was basically his show. So what I carry with me is a lot of the backstage history that went down in that show.
Question: I hope this ends up being a great experience for you even though it's a demanding role.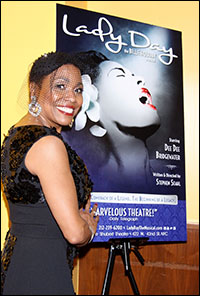 photo by Joseph Marzullo/WENN

Bridgewater Well, you know, it's difficult, but of course, it's a good experience. I don't mean to be misleading. It's an amazing experience and an amazing opportunity. It's the first time I've done anything dramatic in theatre in the States. No one's ever seen me do dramatic here; my reputation here is more cemented as a jazz singer. So for my jazz fans to come and see me in this, they're stupefied. My pianist came to see me, and he came backstage and he looked like a deer in headlights. He said, "Dee Dee, I'm speechless. I didn't know this part of you. I don't know what to say. Oh my Gosh. I have to go. I'm going to have to digest this. I'm going to write you a long email. I can't talk to you about it. I'm overwhelmed."

It's new for me to come back and do this in the States. It's terrifying. I know how critical theatre can be. But I'm very grateful for this opportunity, are you kidding? I'm very grateful to come back and maybe kind of right things for Billie, for myself and for her. It's a beautiful opportunity that Tom Gentile has provided for Stephen and I and everyone who's involved. But it's also overwhelming because I walk into that place and I go, "All these people." I have a whole other consciousness that I didn't have [when I did the earlier versions of the show]. I say, "All these people's lives are dependent on me and what I do with this woman." But, of course, I have to put all these things in the back of my head because if I start to think like that I won't leave the house. [Laughs.] So it is a huge responsibility, and my prayer is to do her justice, so that's where I'm coming from—so that people come to see it. It's all humbling for me. It's a very humbling experience. The first thing I do when I come onstage is I say, "Thank you so much for taking the time out of your lives to come and spend an evening with me" because I realize what it takes just for people to go and see a show. And if I get 2,000 people to come and see me in a concert, me as Dee Dee Bridgewater, sing songs and entertain them, that's pretty amazing. I am a very appreciative performer, and then in today's economic situation and what the competition there is on and Off-Broadway, to have an audience is amazing. I'm very humbled, and I just pray that I will be able to be worthy of Billie and of everything that is happening. And, I will be forever grateful to Tom Gentile for allowing Stephen and I to relive this together.

[Tickets are available online at Telecharge.com or by calling (212) 239-6200. The Little Shubert Theatre is located at 422 West 42nd Street, between 9th and 10th Avenues. For more information visit ladydaythemusical.com.]

Well, that's all for now. Happy diva-watching! E-mail questions or comments to agans@playbill.com.