DIVA TALK: Chatting with Lysistrata Jones Star Patti Murin


PATTI MURIN
About five hours before it was announced that the new Broadway musical Lysistrata Jones would end its run at the Walter Kerr Theatre Jan. 8, I had the pleasure of chatting with the good-spirited Patti Murin, who has been with the production since it debuted at the Dallas Theatre Center (where the show was called Give It Up!) through its Off-Broadway engagement with the Transport Group this past summer (when the show was staged in a Greenwich Village gymnasium) to Broadway. Murin, who made her Broadway debut in Xanadu, stars in the title role of Lysistrata Jones, an energetic, feel-good musical that features a comedic book by Xanadu Tony nominee Douglas Carter Beane and an infectious pop score by promising newcomer Lewis Flinn. Directed and choreographed by Dan Knechtges, the musical, which is very loosely based on the 411 B.C. Greek play Lysistrata, casts Murin as a cheerleader who will do anything — including withholding sex to inspire lackluster basketball players — to boost her team to victory. Singing actress Murin, who possesses a sweet upper register buttressed by a powerful belt, spoke about her current role, her own cheerleading history, her Main Stem debut, her marriage to fellow Broadway actor Curtis Holbrook and more; that interview follows.
Question: Since we haven't spoken before, let's go back to the beginning. Where were you born and raised?
Patti Murin: I was born and raised in a small — but awesome — town, a little bit upstate, called Hopewell Junction, NY. It's about 70 miles north of here.
Question: When did you start performing?
Murin: I'm going to say the sixth grade play. It was Cinderella, and I was a mouse. [Laughs.] And, then I kind of never stopped.
Question: Who were the actors or singers that you admired growing up or those who may have influenced you?
Murin: Let's see… You know, none really off the top of my head. We grew up so close to the city, I did get to come and go see Broadway shows a lot, but there were never any theatre actors that [influenced me]. I watched all of the old movie musicals. Julie Andrews, she could be a good one — the classic… I loved "The Sound of Music" growing up. I loved pretty much anything she was in. It was probably more movies that got me than people. "Peter Pan" — I remember watching that with my family with popcorn a couple times a year. [Laughs.] "Babes in Toyland." I loved that… My dad was really good about showing us all the classics.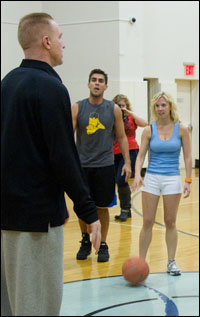 photo by Krissie Fullerton

Question: Were your parents involved in the arts at all?
Murin: Not really, no. My mom — not at all. My dad did a couple school shows growing up, but other than that, they just really have always liked the theatre and have always liked going to theatre, so I was lucky that way. No one else in my family really does theatre except for me — at all. [Laughs.]

Question: When did performing change from a hobby to when you knew it was going to be your career?
Murin: Probably in high school, I guess… Actually, my cousin was planning on going to school for musical theatre, and also another girl, and it was the first time I realized that I could go to school to actually study that and do that for the rest of my life. I got really great grades, was really smart, but there was nothing that I was interested in actually doing for the rest of my life and actually pursuing. So, yeah, probably high school.

Question: Did you go to college for musical theatre?
Murin: I did. I ended up going to Syracuse University and majoring in musical theatre — yup.

Question: When did you get to New York City? What was your first professional job?
Murin: I stayed non-Equity for a couple of years because I had been warned of the ways [that turning] Equity could, sort of, essentially, end your career for a little while before it actually began again. So, I wanted to stay non-Equity and do some shows and some great roles before I got into the real actual meat of the business. I ended up doing a few shows down at a theatre in Florida called the Stage Door Theatre in Fort Lauderdale, and my first show was Crazy for You. I played Polly.

Question: What was your first Broadway show?
Murin: My first Broadway show was Xanadu in 2007.

Question: You were Kerry Butler's understudy, right?
Murin: I was. I actually started out as a swing for the first six months and then, after Anika Larsen left — she was Kerry's main understudy and she had her own track — they offered me her role. For the rest of the next year, I ended up doing that, and I went on for Kerry probably about 35 and 40 times.

Question: So, you got to do it quite a bit.
Murin: I did. I did. It was pretty great. She's so wonderful. She likes to go on vacation. She has her family, so I had a lot of opportunities when she would take time off. She never gets sick. [Laughs.]

Question: Do you remember the first night you went on for her? What that was like being a lead in a Broadway show?
Murin: Oh my gosh, yes. It was planned, which was good. Like I said, she never got sick, so that was nice — I never got thrown on at the last minute. It was planned, so I got an official put-in [rehearsal]. I got to actually run through it with the cast and costumes and everything before I actually had to do it. It was a Sunday afternoon performance, and I just remember, everyone would come up through that trap door, and [my character] was the last one to come up, and I remember standing there by myself with the stage manager and being like, "Oh God, I can run right now!" [Laughs.] I was like, "I don't have to do this," and then I was like, "Of course I have to do this." It was great! [Laughs.] It was such a classic "holy crap" moment! You know, "I can't believe this is [happening]!" The cast was amazing. Every time anyone had to go on, they were so amazing about adapting and giving you some leniency and some leeway and "shoving with love," as we like to call it — getting it in the right spot and helping you out if you trip up at all. She was away for a whole week that time, so I got to go on nine times in a row and really get it in my body, so it was pretty great.

Question: Was your family there for that first performance?
Murin: I wouldn't let them come until the third performance. [Laughs.] Because I knew I had nine, I was like, "I don't want that added pressure," and my boyfriend, who is now my husband, Curtis Holbrook, was in the show. I was like, "I already have to do this in front of him so…" [Laughs.] That was already enough pressure for that, so they were good, they were very good about it.