DIVA TALK: Chatting With Mamma Mia! Star Felicia Finley
photo by Joan Marcus
Question: How would you describe Tanya?
Finley: I really think she just wants to have a good time. She's not dumb… She likes material things… [Laughs.] You know what I mean? I'm not like that, but I know women who are, and she likes the finer things in life. And, I really think she's very earthy—very earthy—so there's a juxtaposition there. And, I think that ultimately it comes down to she just likes to have a good time. I think that's like the basic, basic of how she thinks. [Laughs.] She's a good-time girl.
Question: Since Judy McLane played the part so long, did she have any advice for you in playing it?
Finley: You know, it's so funny that you ask that because when we went into rehearsal, Judy and I have such a mutual-admiration society for each other… It wasn't that she didn't want to give me advice, but she was busy. She had tasks at hand as well as I did, so it wasn't that kind of atmosphere. We both just had to jump into cold water and swim. She got hired quickly like I did… She didn't plan on getting Donna, so she was just as shocked as I was! And so, it wasn't like, "Oh, here's my scepter. Let me give you this…" It was more like, "Holy sh*t! I've got to work!" So it was every-man-for-himself kind of thing, but we were more concentrated on this version of the show versus what she had done because that had already been done, and she's Donna now, so it was more like, "How do we focus on this trio?" It really has never, ever come up... but it comes up from other people, and we always just laugh at each other because she's always like, "I forgot I did that." It's the truth because she did it for so long, it's almost like another show for her. She put a bow on it. She had time to really do her thing with that role. And, I know that feeling—I really do! And, when you're done with that role, you wish the best for everybody—whoever it is.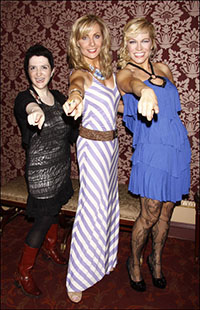 Photo by Joseph Marzullo/WENN

Question: I'm just wondering if you had a favorite moment in playing Tanya?
Finley: Every second! [Laughs.]… I'm a Forbidden Broadway girl, and I love comedy, so I always say there's plenty of girls that like to cry on stage—hire them! I love to bring the comedy and the juice. I just love it. I love it, love it… To me, laughter is like a rush. It's like an adrenaline rush, and it just makes me so grateful… My brother is a doctor, and I used to say, "Doctors should, after surgery, have people there clapping for them. Instead of us jumping up and down on the stage and people…" We don't save lives. And, he said, "You're wrong!" My brother said, "You're wrong!" And, I said, "What do you mean?" This was maybe like ten years ago—it changed my life. He said, "Well, you have to remember that laugher raises serotonin, so you're a heart doctor." He said, "You save people's lives by giving them a jolt of serotonin." And, I went, "Wow. I never thought of it that way." He goes, "You can't believe how much laugher helps people," and I was like, "Wow." … I've been doing Broadway since '96… There should be some sort of calibrated science experiment on the demographic of audiences. It's very fascinating to listen to audiences because sometimes you have an audience that's like, last night, was primarily European and Chinese, so you're not going to have a lot of response. You're going to see a lot of smiles, but you can't hear smiles. So you have to go up with your gut that they're just having a good time. Sure enough, at the end they lose their minds, and that's just a cultural thing. And, I've traveled the world, so I do know that most cultures don't respond like Americans. We're very vocal. We're very vocal, and we let you know how funny—or whatever it is, we let you know. Not all audiences are like that, and it's amazing though just to see, like at the stage door, their faces. You've touched them forever. And, I respect that. I respect every person sitting in that audience, and in a time where nobody has any money, I respect it even more.