DIVA TALK: Chatting With Mamma Mia! Star Felicia Finley
Photo by Joan Marcus
Question: What show was that?
Finley: When I was doing The Life…we did the Sweet Charity [benefit] with all the Charitys. And, Gwen put it up, and I asked her because Cy was alive, and I was doing The Life with Cy and Marty Richards. It was such a scene. They were all old-timers. Liza was hanging out there. And, they were all so close. So we were doing, "The minute you walked in the joint…" And, Bebe [Neuwirth] was in it, and she had just won the Tony for Chicago and all that, so I had the balls of the world, and I just said, "Gwen, can I follow you?" She said, "Get a paper and pen and sit right here." I got to trail her for two weeks, and I still can't believe it! [Laughs.] I mean, I can't believe what she told me and what I know… Chita and she loved each other, and they cooked for each other! That's the one thing that I learned from them—the gypsy does a show eight-shows-a-week—a real gypsy. You get on stage, and your blood is left. Your corpuscles hurt. You can't give anymore, and on that second show—or whatever day it is—you've got to bring in some food! Especially if you're a lead—you've got to take care of your company. Judy's good like that, and I'm good like that because we've been around enough to see that change has gone into the commercial world from when it was more mom-and-pop, and I miss it. I try to bring in that family. We're in this together. We're a family. We have to take care of each other. She taught me that. I remember Chita coming in with a big cake for Gwen, and then Gwen, the next day coming in with something for Chita. They loved to cook for each other, and being southern, I love cooking. I love that bedside manner. And, there was a bedside manner that I got to see with the Greats. I got to watch that. I was young enough. They were passing as I was coming in, and I got so lucky that I got to witness… It was like a changing of the guard.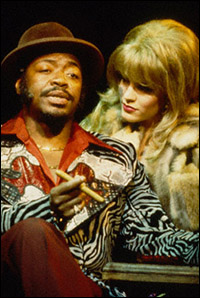 photo by Carol Rosegg
Question: How long will you stay with Mamma Mia!?
Finley: Well, I don't know! I mean, I'm a year and then we'll go from there. I love this job. I really love the character, and I love the match up. It's a good match up of energy versus character. And, vocally I'm suited for it. As far as the physicality it requires, I feel like I was born to do the physical comedy that maybe you don't see a lot anymore on Broadway. I feel like I've been around enough now, and I've worked with so many amazing performers. I feel like I come from the old school. I do! I'm now a part of the old school, and I like bringing that aspect to the stage. I try to be gentle about this, but Broadway is different from television! [Laughs.] They're not the same. They have nothing to do with each other. That's why it's really difficult for cinematic/television folk to translate on Broadway. The technique is so incredibly different. You have to touch the back of the balcony. That person needs to feel it. That is a different technique than just using your eyes. [Laughs.] … [Some screen actors] have no idea of the importance of technique and the control of the core when you're on stage and the trajectory of two-and-a-half hours versus, "Take a scene. Take a break. Do a scene. Take a break." We're athletes—that's what we do—and I'm so grateful that Mamma Mia! went back to the pool of athletes, who will show up for the eight shows and be grateful, you know, because I've also covered many stars, and eight is optional. [Laughs.] I don't like that. I personally don't like that. Gwen showed up for eight. Chita shows up for eight. What's the problem? You signed up for eight, show up for eight. It's not seven shows a week, it's not six shows a week, it's eight shows a week!
[The Winter Garden Theatre is located in Manhattan at 1634 Broadway. For more information visit mamma-mia.com.]
Well, that's all for now. Happy diva-watching! E-mail questions or comments to agans@playbill.com.