DIVA TALK: Chatting with Tony Nominees Aziza, Benanti, Martin, Merediz and Sayre



Photo by Carol Rosegg
DE'ADRE AZIZA
Nominated for her performance in Passing Strange at the Belasco Theatre.

De'Adre Aziza had gone back to sleep after she brought her son to school the morning of May 13. "I woke up again at noon," she said later that day, "and I saw all these texts and voice mails, and I thought, 'Oh, cool, the show got nominated. Awesome!' Then I was like, 'Okay I'm just gonna go to Playbill.com' because that's my theatre bible. And then I saw the list, and I was like, 'Whaaaaat?!'"

Aziza, who is making her Broadway debut in Passing Strange — which blends the power of a rock concert with the emotion of musical theatre — plays several characters in the new musical, including teenage goddess Edwina, neo-hippie Marianna and avant-garde filmmaker and writer Sudabey. The young actress says her favorite role is the latter: "I get to be really loose with her physically. I can just be kind of dropped in and slouch and sit with my legs open like a dude," Aziza laughs. "She's really loose. It's fun to be able to do that physically."

The actress, whose Off-Broadway credits include Doris to Darlene: A Cautionary Valentine, Dream on Monkey Mountain and Macbeth, says the greatest challenge for her onstage is "not laughing when [co-stars] Daniel [Breaker] and Stew laugh. Because we've done it for so long, I feel really comfortable at this point with the characters, but when they laugh onstage or when we're just having a giddy day, holding that concentration gets tough. We all want to just laugh and have fun and just be stupid, but it's like, 'No, we can't do that!'"

Another challenge for Aziza has been combining a Broadway performance schedule with motherhood (her son is seven). "God bless my mother," Aziza says. "She helps me so much. My family is so understanding. I have the kind of family that's just like, 'Go! Just do it. We'll figure it out.' Like when I had to go to Berkeley [for the pre-New York runs of Passing Strange], they were like, 'Go, we'll figure it out.' So, God bless them. I definitely would not be able to do any of this if it wasn't for my family's help, especially my mom's. They've been very, very supportive."

Does Aziza think Passing Strange has a message? "I really feel like there are so many different messages you could take from it," she answers. "There's the mom/son theme. Then there's the 'artist finding themselves' theme. But that artist theme can translate to anybody, to any profession that you're in. I don't want to say, 'I think this is what the message is' because I think one of the beautiful things about the show is that you just take from it what talks to you.

"But, for me, one of the lines that Stew says that I carry with me all the time is, 'Art is life, but only love is revolutionary.' It's kind of one and the same. Art is my life, but you need the love that you have, not only for this, but for your family and for the world to create change."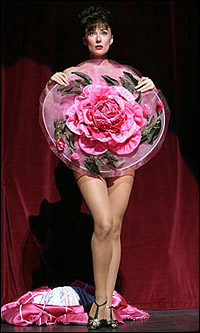 photo by Joan Marcus

LAURA BENANTI
Nominated for her performance as Louise in Gypsy at the St. James Theatre.

Laura Benanti and husband Stephen Pasquale, the gifted actor seen Off-Broadway in A Man of No Importance, were preparing to watch the Tony nominations on television the morning of May 13 when Benanti received a text message from her friend Jamie that simply said, "Congratulations!"

"And," Benanti told Playbill.com that same morning, "I was like, 'What are you talking about?' And he said, '[The nominees are] already online.' So [Stephen and I] just pretended we didn't know, and we kept watching," she laughs.

Benanti says she is extremely grateful for the nomination. "It's really nice to feel like your work is recognized. There are so many amazing performances this season and every season, I don't know how on earth they choose, so it's nice to sneak in as one of the chosen ones."

It's the journey her character takes — from wallflower to world-famous-stripper Gypsy Rose Lee — that Benanti says is the most challenging aspect of her latest Broadway outing. "It's really [about] keeping your focus and your energy up," she explains. "I learned pretty quickly early on that I have to eat at intermission, which is contrary to what you would think because I have to basically wear a bikini in the second act. But I've found that I have to eat a protein bar or almonds or cashews or something to keep going. It's very easy to get a dip [in energy], especially because of the adrenaline rush of going into the strip … and then, right after that, when you really should rest, you have to scream at Patti LuPone! You don't want to be 'under' for that moment."

And what is it like performing that final dressing room with co-star LuPone, who is also Tony-nominated for her superb performance as Rose? "It changes every night," Benanti says. "It's so malleable. Getting to play with Patti LuPone — she's a master, so it's exciting and it's nerve-wracking, and I don't ever want to be bad because she's always good. I don't want to falter. It's exciting, and it's challenging and it's rewarding. Some nights are better than others, but all in all, it's a pretty great way to earn a living." Among Benanti's favorite onstage moments in the Arthur Laurents-directed Gypsy are "If Momma Was Married," "Together Wherever We Go" and the strip. "I do look forward to the strip now," she confesses. "I didn't always, but now I've gotten to a place where I really enjoy myself. I'm really having fun with it, so that's good."

When asked how she feels her performance has changed from the summer Gypsy engagement at City Center to the Broadway run, Benanti answers, "I can't see my performance from the outside, but I'm hoping it's more layered. That was certainly my goal to not just go through two or three emotions, but to enable myself to experience many emotions within whatever experience the character is having at the time. And, honestly, to be more comfortable in the strip. When you only have three weeks [at City Center], and you're used to being [onstage] in dirndls or habits or trench coats, it's hard to go like, 'I'm taking my clothes off!' I really tried to work hard on being comfortable within the strip, so hopefully all of that came through."

As for her current good fortune, the recently married, Tony-nominated actress surmises, "I feel really grateful. I got married, and it's been a great ride with the show. So in general, my life feels really happy right now. I'm just enjoying this time because it's not always like this."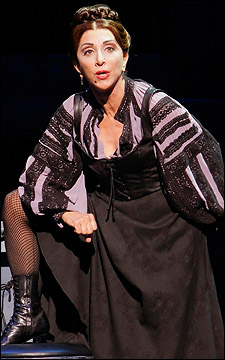 photo by Joan Marcus