DIVA TALK: Holiday Chats (Part I) with Blackwell, Champlin, Fowler, Fraser, Michele and Murney


Happy holidays, diva lovers! For the next two weeks "Diva Talk" will feature short holiday chats with several of this column's favorite gals. This week I had the pleasure of speaking with Susan Blackwell, Donna Lynne Champlin, Beth Fowler, Alison Fraser, Lea Michele and Julia Murney about their favorite holiday memories and songs, their New Year's resolutions, what they were thankful for in the year that is about to come to a close and their work plans for 2009. Read on!

SUSAN BLACKWELL
Susan Blackwell, the funny, wry and charming actress who made her Broadway debut earlier this season in the often-hilarious and surprisingly touching [title of show], says she has two favorite memories, one "then" and one "now." "When I was growing up," explains Blackwell, "my mom was an ICU nurse, and she frequently had to work on Christmas. My high school friends and I would go to the hospital and carol my mom, the nursing staff and the patients. [Now], the [title of show] family has a Secret Santy gift exchange every year where we make each other's gifts…everyone secretly hopes that Jeff Bowen will pick their name, because his gifts are fierce!"

This holiday Blackwell — whose favorite seasonal tunes include "quiet/sad/spooky Christmas songs like 'Silent Night,' 'Little Drummer Boy' and 'Do You Hear What I Hear?' . . . [and] any Christmas music associated with Charlie Brown — will be found "someplace quiet with lots of books, food, pillows and blankets."

Blackwell says she is especially thankful this year for her "wonderful husband, friends and family. . . I [also] got to share so many creative adventures with the people I love most in the world. SuperBonus: Those creative adventures brought me closer to my loved ones. SuperSuperBonus: As a result of those adventures, I got to meet so many more interesting, engaging, fascinating people. In summary, 2008 was a creative love-fest that keeps expanding, unfolding and multiplying exponentially! I'm really excited to see what 2009 will bring!"

And, does Blackwell have any New Year's resolutions? "Remain grateful, positive, humble and self-expressed," she says. The New Year will find the gifted performer "rocking some teaching! On Jan. 10, I'll be teaching a 'Die Vampire, Die!' workshop in NYC for performers who want to write, writers who want to perform and all creative challenge-seekers!" For more information click here.

.

DONNA LYNNE CHAMPLIN
It's been an exceptionally busy year for the versatile singer-actress Donna Lynne Champlin, who appeared in the Transport Group productions of Bury the Dead and Marcy in the Galaxy as well as the recent concert staging of the new musical Pride & Prejudice.

Champlin, who is perhaps best known for her acclaimed performances in the John Doyle revival of Sweeney Todd and the Carol Burnett-Carrie Hamilton play Hollywood Arms, says her favorite holiday memory revolves around a time she "was doing A Christmas Carol in Pittsburgh, and my mom had driven up to see the Christmas Eve show and drove home that night to Rochester for Christmas. We'd done the drive from Pittsburgh to Rochester many times since I went to CMU, but at that time of the year the trip is harrowing because you just get nailed by lake effect from not only Lake Erie but Lake Ontario. We usually were able to push through it, but that year it was just impossible, so we pulled over and got a room at a little motor inn. It was a real simple night, just me and my mom, opening our presents to each other, drinking crappy motel tea and watching 'It's a Wonderful Life' until the Pope performed midnight mass. But we were safe, and warm and it kinda brought home the whole 'no room but for a manger' thing for us. Plus, we now get to say that we spent Christmas with the Pope. And, there's nothing better than that for a couple of snow-bound Irish Catholics."

This year Champlin — whose favorite holiday tunes include The Young Messiah's "He Hath Borne Our Grief" ("It's like Handel meets Jesus Christ Superstar meets Yo-Yo Ma") and Judy Garland's "Have Yourself a Merry Little Christmas" ("Gets me every time. The simplicity and sentiment of the song and the performance is perfection") — will spend the holidays "doing the Christmas show at The Gateway with some old friends, and then going home to Rochester, NY, with my boyfriend [actor Andy Arrow]."

Champlin says she was especially thankful this past year to have been "a part of some incredibly brave shows: Shows that took fierce artistic risks and allowed audiences (and the actors) to really grow and majorly push all our emotional limits. I am also very grateful that my mom recovered completely from some surgery she had in the summer and that I met my new fella. So, all is well within and around me right now, and I couldn't be more humbled by it all. Sure beats the hell out of last Christmas which couldn't have sucked more, quite honestly," she laughs.

"My resolutions every year are pretty consistent," Champlin admits, "which, ya know, either means they're real hard to keep or I'm just a big jackass at sticking to them! But, my main resolution is to maintain positivity in my life and my work, no matter how fearful the rest of the world insists on being. At its base, to choose love over fear sounds ridiculously simple, but in reality — especially in this extremely fear-based reality we're all contributing to right now — it can be quite a challenge. I will do my best to try to just focus on my own thing and let the Powers That Be do their thang."

When asked what 2009 will bring for the celebrated performer, Champlin answers, "I have some irons in the fire at the moment but nothing I can speak about just yet. I also have literally four writing projects that I'm working on and am quite happy to occupy myself with them until things solidify as far as shows go. So, nothing officially solid yet, but I am really looking forward to seeing how 2009 unfolds."

As for the remainder of 2008, Champlin says she's excited about performing in the Gateway Playhouse's production of A Century of Christmas, "not only because it's going to be a blast, but considering the last three projects I've done have been about child abuse, unrequited love and war, I couldn't be more thrilled about the idea of tap dancing like a right fool for Jesus for a couple weeks!"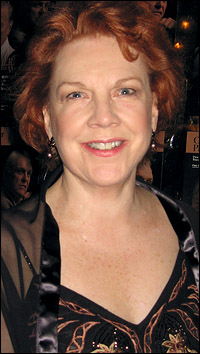 photo by Aubrey Reuben

BETH FOWLER
Beth Fowler, who received Tony nominations for her wonderful performances in Baby and The Boy From Oz, says her favorite holiday memories were spent at her grandparents home (the Fowler side) on Christmas Day with "my daddy playing Santa to give out the tons of gifts to all of us in our big family . . . until I noticed his ruby ring on his right hand — and he was toast!"

Fowler, who was recently seen in a reading of In the Theatre — she also just completed a demo for that Joan Sorkin-Steve Fisher musical — says her favorite holiday tunes are the "religious carols, French, German and Italian, sung in their own languages."

This year the holidays will find the singing actress "hosting our smaller family as I've done for over a decade: 11 of us for rib roast and lots of love to go with. I'm glad that those of us who are here are well and enjoying one another."

As for New Year's resolutions, Fowler, who was most recently on Broadway in the acclaimed revival of Inherit the Wind, says, "I resolve to be the best girl that I can...until temptation is too strong to resist...mostly in the 'food and wine' department!"

Fowler says she is looking forward to "whatever 'the biz' surprises me with. That's what usually what comes tossed my way!"

ALISON FRASER
Alison Fraser, the inimitable singing actress who is currently bringing great warmth and heart to the lovable stripper Tessie Tura in the Broadway revival of Gypsy, says her favorite holiday memory is food-related: "[It's] the sight, smell and taste of the perfect, cognac colored gravy I made this past Thanksgiving. It's so rare that I get it absolutely right, but this year it was sublime."

Fraser, who received Tony nominations for her performances in Romance/Romance and The Secret Garden, picks three beloved holiday tunes as favorites, "Holly Jolly Christmas," "Rudolph the Red-Nosed Reindeer" and "Frosty the Snowman." And, she says, " You can sing them all together if you have two clever friends who won't get confused!"

When asked how she will be spending the holidays this season, Fraser replies, "Besides being in the best musical ever starring the best diva ever? Celebrating the fact that George Bush will be gone soon."

Fraser says she is currently "thankful for a great job, and a happy, healthy son who is having a terrific college experience." As for her New Year's resolutions, Fraser, who recently played several sold-out concerts with friend and actress Mary Testa, explains, "I resolve, gulp, to pass physics next semester — I too am attending college."

Fraser will continue to co-star in the Arthur Laurents-directed revival of Gypsy through its closing performance on March 1, 2009, "at which point my beautiful butterfly bumper will be retired. Rumor has it I have a concert coming up at the Zipper shortly after that, but other than that and school, life is an open book. Can't wait to see how it turns out."