DIVA TALK: The Best of 2008



Photo by Joan Marcus
*
Hello, diva lovers! This week's column offers a backwards glance at the year that comes to a close next week. This year's "best of" list includes favorite musicals and/or musical performances on the theatrical and concert stages in Manhattan. I'm thankful I was able to catch so many wonderful performances, and I hope the year to come brings even more memorable ones. Wishing you all much joy and peace in 2009.
THE 11 BEST OF 2008 (in alphabetical order):
LAURA BENANTI
I've long been an admirer of the many talents of Laura Benanti — her Cinderella in the Into the Woods revival, her gloriously sung Lily in the concert version of The Secret Garden remain theatrical standouts — so I was thrilled that the singing actress was finally rewarded with a Tony for her performance as Gypsy in the current revival of the classic Arthur Laurents-Stephen Sondheim-Jule Styne musical of the same name. As wonderful as she was during the show's limited engagement at City Center, Benanti's performance even deepened for Broadway. She was appropriately self-conscious and awkward as Louise in the musical's first act, delivering what may be the definitive version of "Little Lamb" — who knew that song could be so affecting? — and she was physically stunning and self-assured as stripper Gypsy Rose Lee in the show's second act. And, her showdown with co-star Patti LuPone prior to "Rose's Turn" was breathtaking.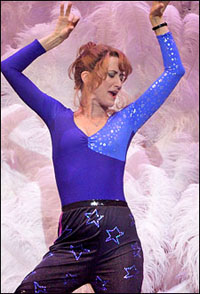 photo by David Scheinmann

Billy Elliot — The Musical
Fans of the film "Billy Elliot" — this writer included — have been waiting several years for the musical version of the acclaimed motion picture to make its way across the Atlantic. Whatever small complaints one might have, there is no denying the sheer emotion that overtakes the audience at the Imperial Theatre as the young Billy figuratively and literally flies across the stage. The top-notch cast is led by Haydn Gwynne, who as dance teacher Mrs. Wilkinson, opens a world of possibilities for Billy Elliot; Carole Shelley, who offers touching and comical moments as Billy's dotty grandmother; Greg Jbara, who is equally moving as Billy's dad; and Kiril Kulish, the Billy I saw, who had me in tears with both every time he danced or spoke of his late "mum."

BETTY BUCKLEY
Whenever Betty Buckley sings, it's time for a celebration, for few can match the emotional intensity and lyrical acuity she brings to songs that span the worlds of country, rock, pop, folk, jazz and Broadway. And, her recent debut at the famed jazz club Birdland was no exception. Buckley said that she poured through her voluminous music collection to choose some of the most beautiful songs she knew for her Birdland bow. And, what a beautiful repertoire it was: From the atmospheric "Autumn Leaves" to the heartbreaking songs of Antonio Carlos Jobim, Buckley offered an evening of beautiful tunes that were also beautifully acted. One of the most haunting songs of the evening was a new addition to the Tony winner's eclectic repertoire, "Ghost in This House," which was as emotionally powerful as it was gorgeously delivered: Buckley's soprano tones were at their most lovely on this supremely moving selection. And, it should be noted, Buckley's rangy alto remains a formidable instrument. Especially exciting were full-voiced renditions of "Since I Fell for You" and the Bob Dylan anthem "The Times They Are A Changin'." Other highlights of the generous set included a wonderful pairing of Jobim's "Dindi" and "How Insensitive" that had the sold-out crowd completely absorbed in Buckley's sensitive readings; a belty version of the Gershwin classic, "They Can't Take That Away From Me"; and a superb take on the pop hit "Get Here," which concluded Buckley's evening. Tom Waits' "Take It With Me When I Go," Buckley's encore, was another standout. Those who missed Buckley's fall engagement, fear not. The multitalented actress will bring her acclaimed By Request evening — directed by Richard Jay-Alexander and featuring Seth Rudetsky at the piano — back to Feinstein's at Loews Regency in February 2009.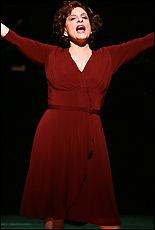 photo by Joan Marcus

PATTI LuPONE
There was no denying this was the year of Patti LuPone. Who would have thought after the unnecessary drama of Sunset Boulevard — she was Olivier-nominated for her work in London and the musical never recouped on Broadway anyway — that LuPone's best work lay ahead of her? In taking on the mammoth role of Rose in the classic musical Gypsy, LuPone reclaimed her status as one of the major forces of the American musical theatre. It was (and is — through Jan. 11, 2009) a monumental performance as thrillingly sung as it is emotionally powerful and nuanced. Especially riveting are LuPone's performances of the showstoppers that close each act: the shocking "Everything's Coming Up Roses" at the end of the first, and the breakdown-in-song "Rose's Turn" that concludes the second. In the latter, LuPone doesn't let the emotion of one syllable pass her by: Her "Rose's Turn" is humorous, moving, shocking, horrifying and just plain thrilling. It was a performance that not only garnered her a long-in-coming second Tony Award but also a Drama Desk Award, an Outer Critics Circle Award and the Drama League's Distinguished Performance Award. And, if Gypsy weren't enough, we were also treated to "Patti LuPone at Les Mouches," a live recording of LuPone's acclaimed 1980 performance at the now-closed Manhattan nightclub Les Mouches. The high-voltage act, available from Ghostlight Records, is an exhilarating mix of show tunes, standards, pop hits and disco tunes and features a young, golden-voiced LuPone thrillingly belting out showstopper after showstopper. Her enthusiasm is simply infectious, and one can't help ride the wave of positive emotion that LuPone delivers in song after song.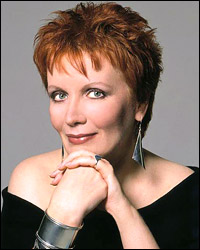 photo by Gideon Lewin

MAUREEN McGOVERN
What's most enjoyable about watching an artist perform throughout the years is that rare occasion when one is surprised by a performance and thrilled anew at that artist's talent. Such was the case this past season when Maureen McGovern made her Metropolitan Room debut with her newest concert act, The Long and Winding Road, which was subsequently released on the PS Classics label. Directed by Philip Himberg with musical direction by Jeff Harris, the evening featured an eclectic mix of tunes from such celebrated sixties singer-songwriters as Joni Mitchell, Jimmy Webb, Paul Simon, Carole King, James Taylor, Randy Newman, Bob Dylan, John Lennon, Paul McCartney and Laura Nyro. McGovern seemed to connect with this material on all levels, and she was more at ease with her audience than I had ever seen her. She was funny, charming and that rangy, clear-as-a-bell voice seemed as powerful, if not more so, than ever. I particularly enjoyed her a cappella rendition of "Where the Boys Are," her simple, slowed-down and touching version of "The Circle Game," her terrific, comical take on "Rocky Raccoon" and a thrilling "And When I Die."