DIVA TALK: The Elphabas of Wicked; Looking Back at a Decade of Interviews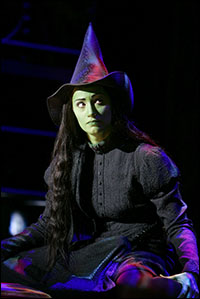 Photo by Joan Marcus

Eden Espinosa, interview from December 2006

About going from Elphaba standby to playing the role:
Espinosa: As a standby, you're required to maintain a certain amount of familiarity to the cast. You don't completely have creative and artistic freedom. You have to keep it in a certain parameter of what people are used to. When we were in rehearsals for when I [succeeded Idina in] January, the associate director had to keep telling me, "You don't have to do it that way anymore. You can do it your own way." [Laughs.] It was great. It was really freeing just to finally have the freedom to find my own Elphaba.

About the demands of the role:
Espinosa: I've never worked so hard in my life. [Laughs.] I remember being the standby [when] I had the good fortune of going on for almost three weeks. I remember at one point, right before [Elphaba] pops out of the trap at the very end, hanging on that ladder and looking at Idina's dresser and saying, "Idina Menzel is the hardest-working woman in show business!" [Laughs.] Because the role is just so, so demanding. It's not so much the singing — even though she does sing like ten songs — [but] she's [also] onstage every single scene except for the beginning of Act One and the beginning of Act Two. She's always onstage, she's always singing, she has heightened emotions, and it's physically demanding as well. It's just non-stop.

About the rewards of the role:
Espinosa: So many. As tired as I was all the time, I didn't care. . . . Doing eight shows a week, [there are some days when you think], "Honestly, I don't feel like doing it today," but the difference [with this part is] even though I had those days, the second I ran out on that stage, it was so fast and so fun and so easy to get lost in it. I just think [book writer] Winnie [Holzman] did a great job of writing this role. You take such an amazing journey, and it's a blessing to be in a hit. It really is. [The audience is] never disappointed. They're so gracious, and you have a packed house every single night, and that is not the norm. So I really tried to relish that every night.

Her favorite moment in the show for Elphaba:
Espinosa: There are so many. I have a different favorite every day. "I'm Not That Girl" I really enjoy. It has the softer, vulnerable side, the more human side. She kind of lets [the audience] in for a little bit. And I love "Popular." It's not even my number, but doing that number with Megan Hilty [is great]. Beside [Kristin] Chenoweth, it doesn't get much better than that. I really like being in that number and reacting to the Glinda, whoever she may be. It's just fun for me.

To read the full interview, click here.