DIVA TALK: The Elphabas of Wicked; Looking Back at a Decade of Interviews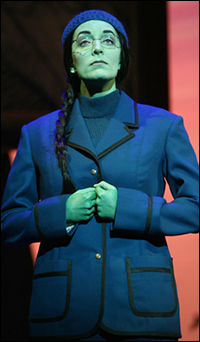 Photo by Joan Marcus
Julia Murney, interviews from February 2007 and October 2008
About starring in a hit show:
This is the longest I've ever done a show — I've never been in a hit! I've been in cult favorites that closed and live on in the mind of those who happened to see them. To be in something that is sort of a machine unto itself and has these legions of fans built in, it's quite stunning and very interesting. When you do a show for an extended amount of time, I have found you kind of can't help but keep growing because after awhile you're going to lose your mind if you don't start exploring other things. There are people — George Lee Andrews is an old friend of the family, he's been in Phantom since it opened! God bless him, I don't know how he does it. That's extraordinary to me. The thing that always makes any show worthwhile — of course, it's great to play a role like Elphaba and kind of be a bit of a rock star — but in the end, what gets me through day in and day out, are the people. That's what lasts. The show eventually ends, or you leave, and it's the friendships you make, and everyone here is so welcoming, and the crew is so great. So, that's it — because you're all showing up, and you're all doing a two-show day on a Wednesday and a Saturday. And, yeah, I have to sing Fs, but that guy over there has to pull that fly, and that girl over there has to do that choreography — we all gotta do it. It's just nicer to feel like we're all in it together.
Most memorable stage door moment/fan comment experienced during her run in Wicked:
Julia Murney: I found myself consistently amazed at the numbers and passion of people at the stage door, both on tour (props to the sea of people every night in Atlanta) and on Broadway, and I am hard pressed to pick just one memory...One that comes to mind is the girl who showed up one night and said she was the "tattoo girl." She lifted her pant leg to show me a beautiful and rather large tattoo of a butterfly on her calf, with the words "defy gravity" on it — in my handwriting. She had asked for the writing while I was on tour, and I figured, well why not — practiced writing it about 500 times before sending it in, and now there it is permanently on her leg. Holy cow!
Funniest stage mishap that stands out from her Wicked run:
Murney: A few times, Kendra [Kassebaum] tossed her wand off stage during "Popular," and it would bounce off the tower and back onto the stage — her improv around that killed me every time. There was the time the monkey forgot to bring me the note about Fiyero in the final scene, so he just looked at me and mumbled, "Figure it out." I also have to give shout outs to both the tour and Broadway casts for taking such incredibly good care of me on nights when things were not going well health wise for me. They are salt of the earth, every one of them.
To read the full interview, click here.