DIVA TALK: The Elphabas of Wicked; Looking Back at a Decade of Interviews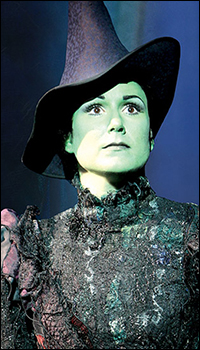 Photo by Joan Marcus

Stephanie J. Block, interview from December 2007

How she initially became involved with Wicked:
Block: It was kind of a random phone call. It was back in February of 2000. Stephen Schwartz and Winnie Holzman were out [in California] creating Wicked because Universal Pictures was looking to back it. Story goes, as it's been passed on to me, that Stephen Schwartz went to dinner with a nice group of friends and he said, "I'm not familiar with a lot of the musical theatre talent out here on the West Coast. Who would you guys recommend?" Luckily, my name came up several times. They referred him to me, and he literally left a voice message on my home phone and just said, "Stephanie, you don't know me, but my name is Stephen Schwartz. I've written Godspell…" and he started to give his resume, and my jaw just kept dropping on the floor! . . . Once I regained myself, I called him back. I think we met the next day or the day after that. I sang a couple songs for him, and he played me three tunes from the show and kind of taught me there on the spot.

Her disappointment in not getting to open the show:
Block: Oh, yeah, it was like someone punched me in the gut, quite frankly. But I understood. My heart didn't understand, but my head certainly did. When producers say, "Well, you have no Broadway credits and we're about to mount a $14 million production, it's just a huge risk," you want to fight your case and say, "I can do it." But Idina was nominated for a Tony before. She had been on this route of originating a Broadway role. They wanted that and they needed that. I, at that point, had to understand. But being with the original company, that was kind of my wake up to take the leap from Los Angeles to New York. [And, then] Wicked had been postponed. It was supposed to open in spring and then it got passed until the fall… I moved out to New York with every intention to be part of the original Wicked company and then had several months before it was to start, to kind of fill my time. So, I was auditioning and getting out there and really trying to get the lay of the land here in New York City. But Wicked was certainly [the impetus to] "get up and go try it and see what happens."

How she would describe Elphaba:
Block: I think it's not so much how I would describe her, [but] this is what I admire about her: her integrity, her sense of right and wrong and willingness to continue down a path which she feels is right and feels is important, regardless of who is going to throw obstacles at her. I admire her strength, I admire the vulnerability that she chooses to show only in moments of solitude or with people that she then begins to trust. There's so much about her, to me, that resonates with me as a person. I just feel like I'm really connected and know her very well.

Why she believes the show has become such a hit:
Block: It's that everybody feels like there is a piece of Elphaba inside of them. You want to root for her because of her integrity, her purpose, her meaning. There was a reporter that used a great quote, "Most people may come in thinking that they're Glinda and, for some reason, by the time they leave the theatre, they've adopted the character traits, or want desperately to adopt the character traits, of Elphaba." And I think that's very true. I also think that the history with "The Wizard of Oz" and how everybody feels like they know these characters and they've grown up with these characters, to see a completely different point of view and a different take on it is really such a great form of entertainment and really so very clever. It's amazing to me that, even after all these years that Wicked has been playing — and now it's intergalactic with the many companies they've got — that people still respond when they hear about the ruby slippers or they get the nuances of the storyline that connects "The Wizard of Oz" with Wicked. They're just in awe of how clever Winnie [Holzman] made this book.

To read the full interview, click here.