DIVA TALK: The Elphabas of Wicked; Looking Back at a Decade of Interviews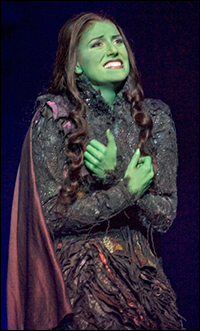 Photo by Joan Marcus
Nicole Parker, interview from February 2009
About the process of de-greenifying after the performance:
Parker: I come in, and I take a breath and go, "Oh, my God, I did it again. Okay, good, I'm alive!" So there's that moment. [Laughs.] The moment I realize I'm alive and I'm fine. And then I wash my hands first with this fancy wonderful peppermint soap that takes it right off your hands very quickly. So I do my hands first, then I do my lips and my eyes, and then I jump in the shower. Depending on how many other people are showering at the time, [it goes] from hot to cold, so there's times I'm like, "Waaaaah…" It's really kind of nice to get to shower after that show. It's actually exactly what I would want to do, to get into an enclosed, warm, safe-feeling place that has steam. It actually takes about 15 or 20 minutes. I just scrub heavily with a couple of different products, and then I'm out.
Her favorite moments in the show:
Parker: I have a couple. And, you know, they're going to change. My favorite moment is going to change, too. There are times when I say, "I love singing that song." And then the next day I'm like, "I do not like singing that song! That song was not my friend today. Why was that song not my friend today?" [Laughs.] So it changes. But some of my favorite parts I can't even explain why. For some reason, I really love — and not like it's so hard to understand, but it's maybe not what you would first think of — but I really love doing "Loathing" because it means that I got through "Wizard and I," so that makes me happy, and now I'm joined onstage by everyone. And I really, really like the moment where I get to be onstage with people. I love the energy, the rush of energy from "Loathing" as I'm running down the stage and the groups are coming at me and I'm chasing after them. It kind of gets me really, really warmed up into the show. This cast is so incredible, the energy they give out. I really love "Popular" because I love watching Alli [Mauzey] because she's hilarious! I love sitting . . . and knowing that now we're going to have a moment, we're going to have a scene, we're going to become friends, she's gonna be funny. . . . And I really like doing the dance — I like the "Elphaba Dance." I remember being, definitely, the awkward girl, and I like that moment because it's so triumphant, even though it's sort of sad, but at the same time it's not because you really get to see that she is an individual. There are a lot of things going on at that moment, and I enjoy all of them. That's all first-act stuff — the second act goes by so quickly. I'm sure I'll settle into it more and have more favorite moments!
Her thoughts about the success of the show around the world:
Parker: I think because it's a combination of the incredible production value — which is something that always remains with people. There are some amazing visual images that happen, but then it's not just that. On top of it, there are relationships. I think with any show, if you don't care about what happens to the people, you don't have a show. Whether it's a sitcom or a silly movie, it doesn't even matter. You have to care about the people. To me, that's what it is: People care about Elphaba, people care about Glinda, people care about Boq. You can hear it. I will listen to them and the way they react, and they're with us. They're totally with the story, so I think it is good storytelling. That is what keeps a show going on and on forever. It's not production value, it's not lighting, it's not costumes, it's not sound. And while the show has all of those elements, what it has at its core is the storytelling. I think if you look at anything that lasted a long time, you told a good story and you cared about what happened. That's what it is. It's a good story. It doesn't matter what age you are, who you are, where you're from. You're in.
To read the full interview, click here.