End Zone: Lombardi, a Football-Star Story, Ends Broadway Run May 22



Photo by Joan Marcus
Tony Award nominee Thomas Kail (In the Heights) staged the play by Academy Award winner Simonson, which opened Oct. 21, 2010. When it closes, with its original cast intact, Lombardi will have played 30 previews and 244 performances.
Milwaukee Repertory Theatre announced in recent days that it will stage the post-Broadway regional-theatre premiere of the title, in Packers territory. It will be locally produced.
Dan Lauria ("The Wonder Years") plays the late coach opposite Judith Light ("Who's the Boss," "Ugly Betty," Wit) as his wife, Mare. Light's performance was favored by critics and the Tony voters, who singled out her performance with a 2011 Tony nomination for Best Actress in a Play. It was the production's only Tony nomination.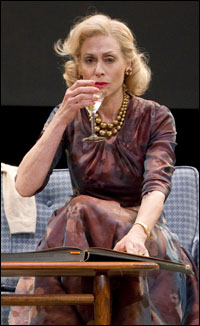 photo by Joan Marcus

Fran Kirmser, Tony Ponturo, Friends of Lombardi and the National Football League produce the Broadway run of the work inspired by the best-selling biography "When Pride Still Mattered: A Life of Vince Lombardi" by David Maraniss. The play is set over a week in 1965 — five years before Lombardi's death from colon cancer at age 57. The play shifts back and forth in time.

Kirmser and Pontur have also aligned with the National Basketball Association to produce Simonson's Magic/Byrd, about basketball Hall of Famers Larry Bird and Earvin "Magic" Johnson, on Broadway in 2012.

"Lombardi was a story that we wanted to tell and an idea that we believed in," Kirmser and Pontur said in a joint statement. "We wanted to attract both an audience which had never set foot in a Broadway theatre, and to satisfy the traditional theatregoer. Vince Lombardi's remarkable life offered us the opportunity to assemble a cast made in heaven, and a creative dream team. We are so proud that we were able to do this on Broadway and are thrilled to announce that the show will continue to be seen across the country in licensed productions through The Dramatists Play Service. We hope to continue to inspire new audiences through our upcoming production of Magic/Bird, based on the lives of Magic Johnson and Larry Bird."

The cast of Lombardi also includes Keith Nobbs as Michael McCormick, Bill Dawes as Paul Hornung, Robert Christopher Riley as Dave Robinson and Chris Sullivan as Jim Taylor.

Set in the round, Lombardi is designed by David Korins (set), Paul Tazewell (costumes), Howell Binkley (lighting), Acme Sound Partners (sound) and Zak Borovay (projections).

Tickets can be purchased online at www.telecharge.com, by phone at (212) 239-6200, or in person at the box office (50th Street, west of Broadway). Visit www.lombardibroadway.com.

Dan Lauria and Judith Light talk about the man, the myth and the reality of Broadway's pro-ball protagonist: