For Tony Winner Audra McDonald, The Sound of Music Live! Is an Unexpected Full-Circle Moment



Photo by Autumn de Wilde
*
When Audra McDonald hits the final note of "Climb Ev'ry Mountain" during the live broadcast of the beloved family musical The Sound of Music on Dec. 5, it will ring-out a homecoming for the stage and screen actress, who earned her first Tony Award in the 1994 Broadway revival of Rodgers and Hammerstein's Carousel.
Playbill.com spoke with McDonald about her history with the musical and the ambitious undertaking of bringing The Sound of Music to modern audiences in a new way.
The song "Edelweiss" has a strong family connection for you. Can you share a bit about that?
Audra McDonald: When I was born, my uncle gave me a music box that had little birds on it. Two of them were getting married, one was officiating, and they were all circling a tree. It played "Edelweiss." It was in my bedroom from the time I was born. Then, when I was nine years old, I was looking to audition for this dinner theatre because I wanted to get a trophy and was trying to figure out how to get a trophy. [Laughs.] My parents said, "Try auditioning for this and if you get this, we'll see about getting you a trophy." I wasn't sure what to sing, and the requirement was to sing something from musical theatre. The only thing I really knew well was "Edelweiss." So I sang "Edelweiss" and my dad played it for me on the piano. So, that's been my connection. But also, I was born in Germany. So when people say, "Hey, you're playing Mother Abbess?" [Laughs.] I say, "Well, you know in actual fact I was born in Germany. Not Austria, but Germany!"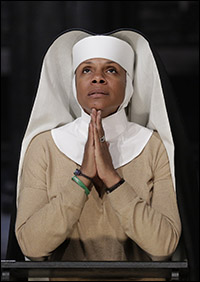 photo by Paul Drinkwater/NBC

What was it like stepping into the rehearsal room, hearing that song and returning to the world of Rodgers and Hammerstein? In several different ways this is a full-circle moment for you.
AM: Of course. It's never a show I thought I would be in; never in my life. It's a show that I've associated with, in terms of being a fan of it, being moved by it and it being a part of my life growing up, like every other kid in America. But then, this also ties in with my close association with the Rodgers and Hammerstein Organization over the years since Carousel, then being close to [Richard Rodger's grandson] Adam Guettel and his mom [Mary Rodgers Guettel]. Then all of the sudden, here I am finding myself in the actual musical. It feels strangely like a homecoming, although, Lord knows, on paper it doesn't look like it should be, but it feels that way.

You're singing one of the most well-known songs in musical theatre. It can be a bear to sing. What are the challenges for you?
AM: There's a lot of pressure with that song. I don't want to say it's the eleven o'clock number, but it is the moment where Maria's fate is decided in terms of her deciding to go back [to the Von Trapp family]. I mean, the show could end with her just going back to the abbey and that being it. [Laughs.] I've got wonderful people in my life, Andy Einhorn and my voice teacher, Arthur Levy, helped me find a way into it vocally where I didn't feel too stressed out about it. And now, it's about singing it to that sweet face - to Carrie [Underwood] - who's so sweet and pure, and in the moment and emotional. It's about sticking with Mother Abbess' objective, which is "I can see that this is her path." It's really a tough love song. She's kicking her out of the nest.