Gender Lines Blur as Norm Lewis, Stephanie J. Block, Robin De Jesus, Andrew Keenan-Bolger and More Go Backwards at BC/EFA Benefit



Photo by Matthew Blank
*

"It was so amazing," said Bebe Wood, the pre-teen actress from NBC's "The New Normal" who hosted the 2014 edition of Broadway Backwards alongside Tony Award winner Julie White, at the evening's after party at John's Pizzeria. "I was so happy; that's why I think I was really nervous because I didn't want to disappoint anybody."

Not only did Wood not disappoint, the young actress left the crowd inspired. A few years back, at age nine, she raised $2,000 for Broadway Cares/Equity Fights AIDS through her (now annual) event Broadway Bebe Boutique.

After a trip to New York with her parents — where she had seen multiple Broadway shows (where cast members brought out red buckets and asked for donations to BC/EFA following the performance) — the Kansas City native went home encouraged. "I had this little event called Broadway Bebe Boutique, and I designed and sold clothes," she explained to Playbill.com. "I was nine years old… The first one was at my house, and my goal was to raise $300." By the end of the night, Wood raised $2,000, and followed up the next year with a sum of $4,000.

Wood joined White, a Tony winner for her performance in The Little Dog Laughed, March 24 on the Al Hirschfeld stage to conduct the evening of gender-bending tunes, celebrating the LGBTQ community, acceptance and equality.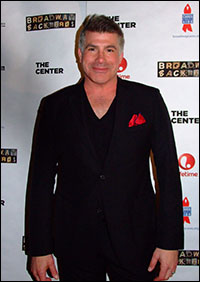 photo by Matthew Blank
Stage and television actor Bryan Batt (joined by Nicholas Park, Marty Lawson and the Backwards ensemble) kicked off the evening with "I Can Hear the Bells" from Hairspray. Recreating a New York City scene at Christmastime, Batt began to "hear the bells" when he was struck by a (very handsome and very buff) Santa Claus.
Following Batt, Pippin's Rachel Bay Jones and "Orange is the New Black" and Godspell actress Uzo Aduba took the stage for a captivating performance of "Lily's Eyes" from The Secret Garden.
"I wound up texting my friend during intermission," admitted Aduba, "and I said, 'I am, right now, at one of the most beautiful things I've ever experienced before in the theatre community.' I love the community, the theatre, the love there — the love in the room — singing 'Lily's Eyes' with Rachel Bay Jones… I think theatre has been an incredible nurturer to the LGBT community, and I think, in all forms — not just orientation, gender, race [or] size — to see yourself reflected back is always important. To tell the true story of the world and what life really looks like, I think that's always important to do."