"God Bless the Child": A Track-by-Track Breakdown of Lady Day at Emerson's Bar and Grill, Starring Audra McDonald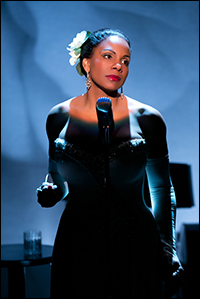 Photo by Evgenia Eliseeva

"What a Little Moonlight Can Do"

Before "What a Little Moonlight Can Do," Holiday introduces herself at Emerson's Bar & Grill and says that she's "even glad" to be back in Philly, although "Philly's always been the rat's ass." She references "Em," her old-time drinking buddy and owner of the bar, and her accompanist Jimmy Powers, her "main man" whom she is celebrating her fifth month with. Powers (Shelton Becton on the keys) begins to play the sweeping melody "Moonlight," and McDonald scats her way around it in true Holiday fashion. Listen to her scats beginning around 1:58. It's exciting how she has Powers match her vocal embellishments on the piano.

"Crazy He Calls Me"

Before "Crazy He Calls Me," Holiday explains that she has a contract to uphold to — she must sing crowd pleasers before she gets "too far juiced," so she goes into "Crazy She Calls Me," a song that was inducted into the Grammy Hall of Fame in 2010. In the midst of the song, she jokes that she will marry Jimmy once her next divorce is finalized. At that time, she was married to Louis McKay, her third husband who, although abusive, tried to get her off drugs. They were separated at the time of her death, and McDonald's inflections in this tune tug at the listener's heartstrings as she sings, "Crazy he calls me/Sure, I'm crazy/Crazy in love am I."

"Gimme a Pigfoot (and a Bottle of Beer)"

She continues to talk of her loves and loves lost, referencing her first husband Jimmy Monroe (aka Sonny), and has a conversation with the audience before asking Jimmy for a Bessie Smith number — she requests "Gimme a Pigfoot." McDonald takes liberties at 1:47, scatting her way through the end of the tune (in the next track she explains, "I'm not a blues singer like Bessie; I'm a jazz singer"), and then continues to tell the audience of how she enjoys to cook pigfoot. Listen to Billie Holiday's version of "Gimme a Pigfoot" on YouTube.

"Baby Doll"


 She continues with an impromptu version of Bessie Smith's "Baby Doll," asking Jimmy to find her a key for the 1926 tune. We love the back-and-forth dialogue that McDonald's Holiday is creating with her accompanist. At 42 seconds, she says, "Jimmy, scoot your ass on over, so I can sit down, too," before flawlessly continuing her performance. The full band joins in at 1:07, and her scoop on the last note at 1:55 is effortless.

"God Bless the Child"

"God Bless the Child" is one of Holiday's most famous and cherished tunes — her version was honored with the Grammy Hall of Fame Award in 1976 — and a song she wrote for "The Duchess," her mother Sadie Fagan. McDonald takes her time with "God Bless the Child" and delivers the first few verses as simply as possible. She makes use of her vibrato throughout the song and occasionally speak-sings the title lyrics, switching between performance and conversation with the audience in attempt to portray her story through song. The song picks up speed at 3:38, where McDonald brings it home to an audience hooting and hollering. Although there is no intermission in Lady Day at Emerson's Bar & Grill, this is where the first disc ends.