Ian McKellen and Patrick Stewart Will Star in No Man's Land and Waiting for Godot in Rep on Broadway


The theatre, performance dates and schedule, additional casting and other members of the creative team will be announced shortly.

Waiting for Godot played a critically acclaimed, sold-out run in London's West End in 2009. Prior to Broadway, No Man's Land will play an out-of-town engagement this summer.

The productions will feature set and costume design by Stephen Brimson Lewis and lighting by Peter Kaczorowski.

In a statement Ian McKellen said, "British actors are used to playing in repertory, whether for the National Theatre or the Royal Shakespeare Company. We enjoy the challenge of variety, and audiences, myself included, enjoy watching a group of actors in contrasting roles. We hope, at least once a week, to give Broadway audiences the chance of seeing Beckett and Pinter on adjacent nights, perhaps even on the same day."

"All my acting life, I have been drawn to the principals and practice of a 'company,' and working with familiar, trusted friends/colleagues," added Patrick Stewart, "whether in British repertory theatre, The Royal Shakespeare Company, 'Star Trek' or 'X-Men.' It's not that strangeness/newness isn't exciting - it is - but when there is a common language and experience, then the unpredictable can happen. So, Ian McKellen, Sean Mathias, Stephen Brimson Lewis, Sam Beckett, Harold Pinter- plus two yet-to-be cast actors - it feels good."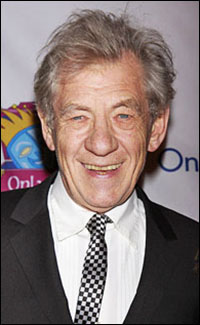 photo by Joseph Marzullo/WENN
In Harold Pinter's No Man's Land, press notes state, "we wonder if two writers, Hirst (Patrick Stewart) and Spooner (Ian McKellen) really know each other, or are they performing an elaborate charade? The ambiguity - and the comedy - intensify with the arrival of two other men. Do all four inhabit a no-man's-land between the present and time remembered, between reality and fantasy?"
No Man's Land was first produced in 1975 by the National Theatre in London with John Gielgud playing Spooner and Ralph Richardson as Hirst. The play debuted on Broadway a year later.
Samuel Beckett's Waiting for Godot "follows two consecutive days in the lives of Vladimir (Patrick Stewart) and Estragon (Ian McKellen), who divert themselves by clowning around, joking and arguing, while waiting expectantly and unsuccessfully for the mysterious Godot."
Waiting for Godot premiered in Paris in 1953, followed by London in 1955 and eventually opened in New York in 1956.
Director Sean Mathias said, "In Waiting For Godot, two men exist in a universe that is both real and imagined – a place where time does not always advance towards a future. And as the two men wait, two outsiders enter to disrupt that universe. In No Man's Land, two men inhabit a land that is neither here nor there - a land where time and memory play unreliable tricks. And as these two men converse, two other men who are both familiar and unfamiliar enter this same land with unnerving effect.
"Beckett and Pinter – the idea of connecting these two giant authors by examining two of their most remarkable plays with the same company of four actors portraying the writers' eight characters is one of the most exhilarating challenges I have yet faced in my work."
The plays will be produced on Broadway by Stuart Thompson and NOMANGO Productions.