Inside the Emerald City: Wicked's Elphaba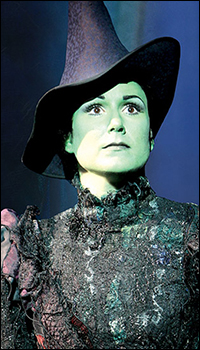 Photo by Joan Marcus

Tony Award nominee Stephanie J. Block was part of the very first workshops and readings of Wicked in 2001. She also understudied the role during the pre-Broadway San Francisco try-out of the musical. Block would later launch the first national tour of Wicked in 2005 and perform the role on Broadway in 2007. She is a Tony nominee for The Mystery of Edwin Drood. Her numerous Broadway appearances include The Boy from Oz, The Pirate Queen, 9 to 5 and Anything Goes.

Block shared some Wicked memories with Playbill.com. "I remember the exact day Stephen Schwartz called me in February 2001 and said, 'I'm out in LA. I'm developing a new show and you were recommended. I'd love to meet with you tomorrow.' It happened that quick. I was in his apartment the next day working on what they were developing into what we didn't know would be the blockbuster Wicked. And from that moment on it kind of was in my blood. I love the piece, I loved the role of Elphie. Of course, then standing by for Idina and going on out of town in San Francisco was another one of those incredible moments because I'd done two years of workshops and readings, and to cross that finish line – I just was grateful and joyous."

Block also recalled the first time she went on as Elphaba: "It was a Sunday matinee in San Francisco. The curtain came down and they said, 'You're going on tonight.' So it was two hours of just figuring out the paint and the technical aspect, and I was just flung in. I'm telling you I can still taste it, and smell it, and feel the lights. It was one of those moments I'll never forget. And since then, I've been lucky enough to do a year on the road and nine months on Broadway. I was recently in London doing a solo show and the producers of Wicked called me and said, 'Both of our Elphies are ill, so if we had to would you be able to go on in a day or two?' So, I had my agent immediately send me the script and I was readying myself years later to go on for Elphie. It was interesting, because I went over it and I thought, 'I could do this tomorrow.' So she's still in my DNA."