It's an Art: Stewart Returns to Broadway's In the Heights


With spray-paint cans in hand, Pete is a kind of neighborhood gnat, buzzing around the streets of Washington Heights with his singular hip-hop dance moves and his eye for folk art. Pete's nimble moves are in the opening image of the hit musical.

What's Stewart been up to since he left the Broadway company in August 2009? "I've been taking time to see family and friends," the actor-dancer told Playbill.com. "But mostly, I worked on my musical, Show-n-Tell, which toured at The Duke Ellington Theater in DC, and a few cities in Virginia. And I officially opened up my dance studio, Oh Yeah! Dance Studio, and my film studio, The Pudding Factory — both in Hoboken, NJ!"

Stewart also appeared in the national tour as the dance captain and swing in January and March.

What was it like to create Graffiti Pete back when the show was being developed Off-Broadway?

Stewart explained, "[Choreographer] Andy Blankenbuehler] and I had a great time in the development of Graffiti Pete, along with [director] Tommy Kail. Tommy had an idea of where GP came from, what his history was. Andy took that and told me what type of movement he felt went along with the story. So most of the time we were just playing...Andy would say, 'It should feel like this...or it should look like that...' And I would just dance, and say, 'Like this?' And he would either tilt his head (which I knew was a no) or he would get really excited and have a really big smile! But most importantly, they let me have room to create and be myself, as well. So some of the moves are me, some are Andy, but most are a collaboration. We saw the canvas together, they knew the colors, and we slowly found, and then painted the picture together. Through them I've learned how to be a better storyteller...dancers are not just dancers, we just speak through movement...which sometimes is clearer, or more powerful than words!"

Stewart's credits include Broadway's Sweet Charity, Off-Broadway's Red Hot Broadway and In the Heights. He toured with Madonna's ReInvention. Visit www.SethStewart.net.

The Tony Award-winning musical at the Richard Rodgers is a romantic musical comedy snapshot of a couple of days in the life of a Latino neighborhood in Manhattan. It won four 2008 Tony Awards including Best Musical. Lin-Manuel Miranda won the 2008 Tony for Best Music and Lyrics, Andy Blankenbuehler won the 2008 Tony for Best Choreography, and Alex Lacamoire and Bill Sherman won the 2008 Tony Award for Best Orchestrations.

A national tour is currently on the road, and a Universal film version is being developed.

In the Heights has a book by Quiara Alegría Hudes and is conceived by Lin-Manuel Miranda. Miranda was the original leading man of the Off-Broadway and Broadway productions, and was Tony-nominated as Best Actor in a Musical. He will recreate the role on film. Thomas Kail directs the Broadway production.

Corbin Bleu, the "High School Musical" star who made his Broadway debut as charismatic narrator Usnavi in In the Heights earlier this year, continues with the show to Aug. 17.

Beginning Aug. 19, as previously announced, In the Heights will star American Idol winner Jordin Sparks as Nina.

*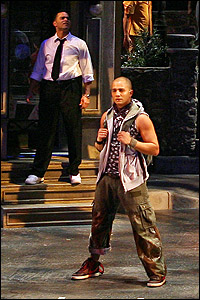 photo by Joan Marcus

Bleu joined the cast Jan. 25. He became an international name as "Chad Danforth" in the Emmy Award-winning Disney Channel Original Movie "High School Musical," its sequel "High School Musical 2" (the highest-rated Disney Channel Original Movie in history and overall highest-rated program in cable history), and the 2008 feature film "High School Musical 3: Senior Year."

Bleu was recently seen on the CW's "The Beautiful Life" starring opposite Elle Macpherson, Mischa Barton and Sara Paxton.

Read Playbill.com's recent Leading Men interview with Bleu.

As of June 7, In the Heights will star Bleu, Andréa Burns, Janet Dacal, David Del Rio, Marcy Harriell, Christopher Jackson, Priscilla Lopez, Olga Merediz, Rick Négron, Courtney Reed and Stewart leading a cast of 28 that features Tony Chiroldes, Dwayne Clark, Rosie Lani Fiedelman, Marcus Paul James, Nina Lafarga, Jennifer Locke, Doreen Montalvo, Noah Rivera, Eliseo Román, Gabrielle Ruiz, Luis Salgado, Rickey Tripp, Blanca Camacho, Allison Thomas Lee, Alejandra Reyes and Marcos Santana.

For more information, visit www.intheheightsthemusical.com.