Jessica Chastain, The Heiress Apparent, Talks About Her Broadway Debut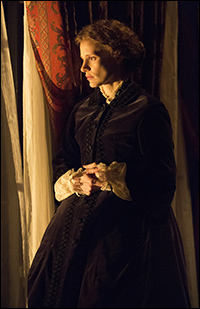 Photo by Joan Marcus
A California native, Chastain starred in the 2004 Off-Broadway production of Rodney's Wife and as the titular temptress in a 2006 Los Angeles staging of Salome opposite Al Pacino.
"I've been in far more plays than I have in movies and TV shows," explains the Juilliard-trained actress. Before long, she's singing "If He Walked Into My Life" from Mame — "Where's that boy with the bugle?" She played the title role while president of her high school drama club. "All the other kids would cut school to go smoke pot and stuff, but I'd cut school to go read Shakespeare."
"That tells you everything you need to know about Jessica," Kaufman laughs.
Throughout the play Catherine finds herself caught in a tug-of-war between her chronically disappointed father (David Strathairn) and handsome suitor ("Downton Abbey" star Dan Stevens), who might only be attracted to her inheritance. "Catherine's so ahead of her time in so many ways," observes Kaufman, who found much inspiration for his "very Jamesian" revival from the play's source novel. "Henry James really used Catherine to herald a new era, and it's exciting to think about her as the beginning of a different idea of womanhood."
It's no mystery why the plum role won Cherry Jones a Tony for the 1995 Broadway revival and Olivia de Havilland an Oscar for the 1949 film version, but Chastain finds these facts more empowering than intimidating. "I would love to have lunch with Cherry Jones, Olivia de Havilland, Jane Alexander, Jennifer Jason Leigh and all the other women who have played Catherine, so we could talk about her," she says. "It feels like a wonderful sisterhood."
Is that familial connection enough to bring Chastain back to the stage for good? "I want to keep working in all mediums," says the actress, who next appears on the big screen in Kathryn Bigelow's "Zero Dark Thirty" this December. "I just want to play great characters and work with people I know I'll learn a lot from, but theatre will always be my home."
(This feature appears in the November 2012 issue of Playbill magazine.)