Joshua Harmon Shares the Story Behind the Killing Cousins of Bad Jews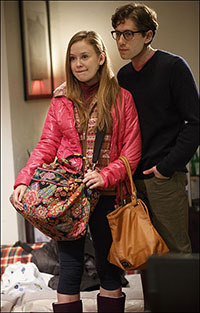 photo by Joan Marcus

There is one little problem with the title, though: What we really have here is Jews Behaving Badly, so it's very hard to figure out exactly who the title characters are.

"The chai is important to both cousins in the play — for different reasons. It had belonged to their great-grandfather, who passed it on to their grandfather, whose entire family had been killed in the Holocaust. It's the last remaining object from that family, so it has religious connotations. Daphna feels very deeply those religious connotations. Liam feels a familial connection. It was an object that had value to his grandfather, and, since his grandfather was important to him, it means something."

What's shocking about all this intrafamiy kvetching is how intimate the anger is. "Daniel Aukin's direction deepens that intimacy, I think," Harmon said. "You're voyeuristically peering into something that you should not be watching. This is a private fight within the family, and you're somehow intruding, which is an exciting, dangerous place for an audience to be. You're seeing something that is not meant to be seen.

"It was fun for me to tap into that anger. I'd never tried to be that angry before, but both of them had valid arguments and both are right at different moments. It seemed wisest to make them as ugly as possible so it never felt like one was being favored over the other. I could either pull back and make them sweet and have it be a very sweet passive-aggressive conversation, or I could say, 'The stakes are high — this means a lot to both of them at this moment in time,' and push them to their limits. I had never pushed myself in that direction with characters before."

Already, Harmon's not resting on his Bad Jews' laurels. "My next play I've been working on for two years. It was definitely inspired by Wendy Wasserstein — particularly her Isn't It Romantic — and it's about somebody whose best friends are all getting married. He's going from wedding to wedding to wedding, watching them go down the aisle. It's about what it's like to be in that transitional moment."

It's a comedy, of course, and he's calling it — what else? — The Franco-Prussian War.