Kathie Lee & Carolee & Aimee: A Scandalous Tale of Heroine Worship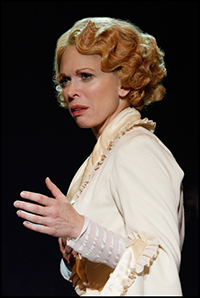 Photo by Chris Bennion

Having recently broken out of the habit as Mother Superior in Broadway's Sister Act, Carmello is likewise unconcerned about the potential of Scandalous scaring off a secular audience. "Our creative team includes all religious persuasions," says Carmello, who considers herself an atheist. "It's a good cross-section of our country and our audience, so we all throw in our two cents about what feels comfortable to watch and comfortable to play."

Adds Gifford, "The show doesn't have a religious message, but it is spiritual in that it reflects Aimee's message of 'God loves you, no matter what.'"

Despite McPherson's saintly accomplishments, many have written her off as a sinful phony due to a string of public scandals, including divorces, rumored love affairs and an addiction to painkillers that ultimately resulted in a fatal overdose at the age of 53. Accused of faking her own kidnapping, she was famously embroiled in a courtroom trial that inspired the 1976 TV movie "The Disappearance of Aimee" starring Faye Dunaway and Bette Davis.

"She was a woman of sincere faith, but she was also sincerely flawed, as is every person in this room," Gifford announces firmly, perking up ears at nearby tables. "The problem is that most people, if they know of Aimee at all, only know her from the tabloids. If you only knew 'tabloid Kathie Lee,' you wouldn't really know me either. Was she a true woman of God or just one hell of a woman? I think it's possible to be both."

Gifford may embrace McPherson "warts and all," but she insists there's nothing scandalous about the Scandalous lead producers: Foursquare Foundation, which is affiliated with the Foursquare Church that McPherson founded, and conservative Republican funders Dick and Betsy DeVos. "When somebody comes to you in today's financial environment and wants to give you money, you don't ask about their religion or political party," says Gifford, who clarifies that her producers have no artistic control. "I had two words: 'Thank you.' And two more words: 'Sign here.'"

Read the expanded Playbill Q&A with Kathie Lee Gifford.