Kathie Lee Gifford, The Saintly and Scandalous Scribe, Talks About Her Passion for Musicals and More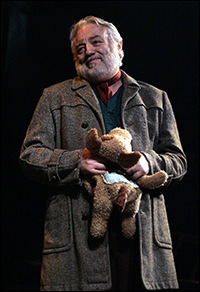 Photo by Joan Marcus

There are many historical figures that I love and admire, but I can't imagine devoting more than 12 years of my life to writing a show about them.
KLG: In fairness, I didn't think it would take 12 years. I thought maybe a week or two. [Laughs.] The first thing I wrote, Under the Bridge, which was based on a children's book, practically wrote itself in about 10 days, and it only took about a year before we were Off-Broadway at the Zipper Theatre. I thought, "Well, this isn't so tough." It's a lot harder to try to tell an epic tale about an incredible woman like Aimee that isn't from source material. I've probably written about 10 musicals total about Aimee; at least 40 songs have come and gone.

The musical's title has also changed quite a bit, hasn't it?
KLG: We've changed titles about five times. As our story would change, the title would change. Hurricane Aimee was a good title, but hurricane Katrina hit right before we did an earlier production, so the title seemed cruel. Scandalous is more provocative than [the later title of] Saving Aimee; it refers to what she went through as the object of scandal, but she also scandalized the church world with what she did in the pulpit. When she preached on the Garden of Eden, for example, she would find the sexiest man and woman in Hollywood and put them in fig leaves — with real palm trees and real animals from the Los Angeles zoo. In our never-ending search for the best story, we've focused on Aimee the feminist, the sex addict, the drug addict… Now we've chiseled everything away so we have the most accessible story about Aimee for a secular audience, and that's who I really wanted to bring her story to.

So Scandalous isn't just for churchgoing, God-fearing folk.
KLG: I don't want people to be afraid of her because she was a woman of faith, any more than they should be afraid of Maria von Trapp. The Sound of Music isn't about Catholicism; it's about a Catholic woman. Here we're dealing with Pentecostalism, which is just the backdrop for this amazing woman's story. And if you know anything about Pentecostalism, it's by far the most theatrical of any faith that I know of. Gifts of the spirit are pretty exciting, visual things. We don't delve into that by any means, but we do put her in that world because that was her world.

Those theatrical Pentecostal sermons must lend themselves beautifully to the stage.
KLG: Oh, yeah, and we see many of them in the show — Adam and Eve, Samson and Delilah, Moses and the Pharoah. Aimee knew people were bored to death with church, so she created a church that she would like to go to — one with excitement and drama and pageantry and fabulous music. She figured if it was good enough for the Bible, it was good enough for Angelus Temple. Aimee's most famous sermon, which she preached every year, was called "The Story of My Life." We actually use that sermon as a device in the show to help tell her story. Aimee may preach, but the show's not preachy. The last thing we want people to think is that they're coming to church. They're coming to see a razzamatazz Broadway musical about a historical figure who did unbelievable things.