Kathie Lee Gifford, The Saintly and Scandalous Scribe, Talks About Her Passion for Musicals and More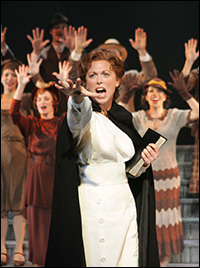 Photo by Chris Bennion

Aimee's children, Rolf and Roberta, both died in recent years, but they were still alive when you began working on the musical. Were you able to speak to them about their mother?
KLG: I sat with both of them for years, and it was invaluable. Her son actually became pastor of her church when she died. I totally had their blessing. My assistant Christine found Roberta — or Birdie, as she was called. I didn't think she'd answer the phone, but I called her up and asked if we could have lunch. She said, "I don't do lunch, but you can come over." I said, "Can I bring you anything?" She said, "No flowers. Bring cookies." As I'm getting off the phone with her, she says, "Aren't you forgetting something? 'Name that Tune'?" She had rebelled against her mother's faith and married a Jewish violinist named Harry Salter, who went on to create "Name That Tune," which was the show I got my big break on in the '70s. What a coincidence! It was like "The Twilight Zone."

What was that first meeting like?
KLG: She lived up in the 90s off of Central Park West, and she had one of those old apartments where you come right up into the apartment. The first time I met with her, there she was, about four-feet-tall, with her little walker. She was a dynamo of a little lady. At the end of a four-hour session, my assistant Christine and I get into the elevator. As the doors are closing — it was like a shot out of a movie — Birdie pointed her bent little finger at me and said, "You. You're the one who's gonna tell mama's story." And the doors closed. And I'm ashamed of this, and I shouldn't have said it, but I just looked at Christine and said, "Holy shit." The weight of it all hit me. I wanted to be fair to this woman's legacy, but I also knew the show would not be interesting unless it was honest.

Did Birdie get to see the musical?
KLG: She saw it in White Plains; Carolee met her there too. There was a terrible storm, and we held the show for her to get there, but yes, she did get to see the show in its very early stage.

Have you watched any of the films based on Aimee's life? Most notably, the 1976 TV movie "The Disappearance of Aimee" starred Faye Dunaway as Aimee and Bette Davis as her mother.
KLG: Yeah, it was campy, but it was fun to watch. All they did was focus on the kidnapping trial, and I'm bored with that. Her story is so much more interesting than that. I didn't want to define her by five weeks of her life that we still don't know much about. I've seen some other things too, and I just didn't think they were really well done. I remember thinking, "Why can't we tell this story well?" I think people are hungry for a great story. I know I hunger for something original. That's why I loved Once so much. I was sitting with Tommy Tune at Jimmy Nederlander's 90th birthday party and we talked about Once for three hours. I hope it portends a time where we'll keep encouraging people to create new, original stories that we haven't heard before.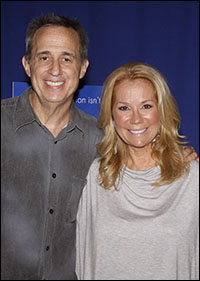 photo by Joseph Marzullo/WENN

How did your collaboration begin with songwriters David Pomeranz and David Friedman on Scandalous?
KLG: Before I was writing the book, we were just writing songs. I'd just start writing a song with whoever was at my house at the time. The first songs were written with David Friedman — songs that are no longer in the show — and then I started writing with David Pomeranz, who had written a song with David Zippel called "Born for You," which was the title song on a big album that I did when I left the morning show with Regis [Philbin]. I loved David Pomeranz's music the same way that I loved David Friedman's, but they're very different kinds of writers. I knew that we would have lots of different musical genres in this musical, so I wanted to write it with both of them. I'm such an idiot; I had no idea that people didn't really work like that! They weren't a team, but they've become a team, and they're represented in the show pretty equally. I always just gave a song to the person whose skill set I thought would work best for it.

Did you write any of the music in Scandalous?
KLG: Oh, I actually wrote the best song in the score — a dirty Irish drinking song. Write what you know, right? We needed a scene where the passengers get really rowdy on the boat ride to China, so I said, "Let me go in my trunk." I had just been to Ireland and written this song. We listened to it and said, "What the hey?" None of us thought we'd ever get to Broadway at that point, so I never thought I'd have to explain why I wrote the dirty Irish drinking song. The show also includes a little piece of a song that Aimee wrote. She wrote well over a thousand songs, and 13 operas.