Kathie Lee Gifford, The Saintly and Scandalous Scribe, Talks About Her Passion for Musicals and More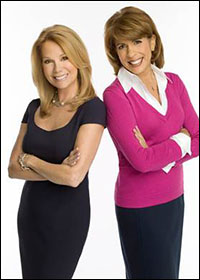 NBC

You've mentioned Off-Broadway's Under the Bridge, which you also wrote with David Pomeranz, but you've actually written a number of other pieces for the stage as well.
KLG: Compared to my whole career, it's a new chapter, but yes, I have. I'm actually meeting with people in L.A. about Under the Bridge being made into a film, which I'm very excited about. I wrote Key Pin It Real, a junior high school musical with David Friedman. I wrote several songs for the musical Hats, and I did the lyrics for an It's a Wonderful Life adaptation with John McDaniel. I have about four other musicals in various stages of development, but the last few years I've been focused on nothing but Aimee. Marvin Hamlisch and I had talked about working together on In Canaan's Eyes, an ensemble musical where everybody gets a big song, but we never got to, and it breaks my heart. At least I had him as a friend.

You're lucky to have the platform and built-in fan base of "Today," on which you announced that Scandalous was coming to Broadway. How often will you be plugging Scandalous on the air?
KLG: As much as they will let me. I'm stunned what they let me say and do. I don't know if you've noticed, but the fourth hour [of "Today"] is a lot different from the first three. They're so supportive. When I originally signed with "Today," I only signed for a year. I said, "If anything happens with this musical I'm writing about Aimee — or if anything happens with my daughter, who's an actress — I'm gone." I really didn't want to come back to television, because I loved writing for theatre. Every contract negotiation since then has had the Aimee musical involved in it, and they've been so accommodating, especially when we took the show to Seattle last year.

Is there such a thing as too much self-promotion?
KLG: Oh, yeah. Nobody likes that. I don't want to be too obnoxious. But I have a secret weapon in my co-host, Hoda Kotb, because without me even bringing it up, she'll look for an opportunity to say something like, "And tickets are on sale now, right?" She's been so supportive. It's lovely that I don't always have to toot the show's horn, because now there are other people who believe in it who are tooting it for me.

You often use "Today" to spread the word about other plays and musicals that you see on a regular basis. You're always very positive and supportive of new work.
KLG: If you watch me regularly, you can tell when I really love something or when I'm just trying to say something nice, but I will never knock a show. I know how hard theatre is, especially now that I've been involved in so many aspects of it — acting, producing, and writing — so the last thing I'd ever do after seeing a show is rip it. You can always find something positive to say. I know the dreams wrapped up in these things, and I don't want to put people out of jobs. People don't need one more person kicking them.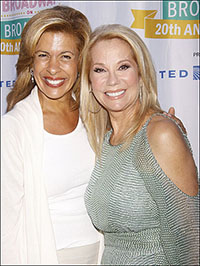 photo by Joseph Marzullo/WENN

Do you remember when you first fell in love with live theatre?
KLG: My mom and dad changed my life when they took me to the Shady Grove Music Fair in Gaithersburg, Maryland. There was a theatre in the round, and we went to see Camelot. It was the hottest summer. I had an aisle seat, and Guinevere was waiting to make an entrance. Her costume was right up against my bare arm, and I could see the sweat on her arms, and I could see the concentration on her face as she stayed in character. She even smelled like Guinevere. People talk about the smell of the greasepaint, but for me it was the smell of Guinevere. I've never been the same since. I always thought my career would take me to Broadway, and that's really what I always wanted to do as an actress, but, you know.

You did make it to Broadway in the 1999 Sondheim revue Putting It Together.
KLG: Yes, eventually, a long, long time later. I had actually turned down Victor/Victoria before that. I had a house in Colorado, and Henry Mancini came up the mountain in a whiteout to ask me to take over for Julie Andrews on Tuesday nights so that she didn't have to do eight shows a week. I was so honored and blown away.

Do you regret declining his offer?
KLG: No, my daughter had just been born; she was one-year-old. I was very torn, but I thought, "Broadway is always going to be there, but my daughter's never going to be this age again." I couldn't believe I had to say "no" to Mary Poppins! Seven years later, Carol Burnett asked me to do the same thing in Putting It Together, and then it seemed right. At that time my daughter was in school, and she didn't like me that much anyway, so I figured she wouldn't really miss me. That was one of the great experiences of my life: Working with Stephen Sondheim, working opposite George Hearn — who is now in Scandalous — and singing those songs on Broadway, it's hard to describe it. I'm still amazed that I got such an opportunity.

Next you played Miss Hannigan in a limited engagement of Annie at Madison Square Garden in 2006.
KLG: That was 5,300 people per performance, so it was a different kind of theatre; you had to make your performance big enough for the kid in the last seat to see it. Doing nine shows a week during Christmas for five weeks was rough. My family was down in Florida, and I'm on the phone, going, "What have I done?" [Singing.] "Little girls…" But my dad always used to tell me, "Honey, find something you love to do and then figure out a way to get paid for it." Now I've done everything in this business but porn, and at this point I doubt there would be any offers.