Kathie Lee Gifford, The Saintly and Scandalous Scribe, Talks About Her Passion for Musicals and More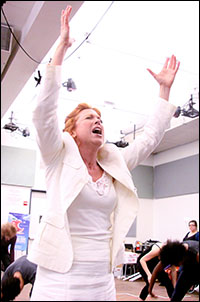 Photo by Joseph Marzullo/WENN

And now you're about to open Scandalous on Broadway. After such a long journey, how does it feel?
KLG: I can't believe it. I know we're a little fish coming into a big shark-infested ocean, and I'm incredibly excited and grateful. I'm so grateful to the Nederlanders for giving us the amazing Neil Simon Theatre. Jimmy Nederlander, Sr.'s encouragement is the actually the reason I started writing the book all those years ago. Jimmy has always loved the show, and he kept encouraging me every step of the way to keep working on the book and making it better. I like that we did this the old-fashioned way and didn't just say, "We're coming to Broadway!"

With your resources and connections, you probably could have brought Scandalous to Broadway sooner, but instead you've paid your dues and crafted a stronger product in the process.
KLG: Right, we've been in line for 12 years doing the work, and I'm still doing the work. I'll never forget what Sondheim said to me when I was doing Putting It Together. I had one run-through with the cast, tech, and orchestra on a Friday afternoon. They thought there was going to be a stagehand strike over the weekend, and I was supposed to make my Broadway debut on Tuesday night. I went back to my dressing room for notes with Stephen — can you imagine? — and I told him, "Stephen, this strike doesn't look good, so if I never make my Broadway debut, I just want you to know that I've gotten everything out of this experience that I could've ever hoped for." He looked at me and said, "Because you did the work." That's how I feel about Scandalous: It's a slog, but the journey is the joy.

What about the destination?
KLG: I hope our destination is wonderful too, and I hope we run a long, long time. But nothing's forever, so I just hope that people find in the show something of value for them personally. I just want people to walk away from the show knowing that they're valuable. That's a good goal, isn't it? The show doesn't have a religious message — I hate the word religious and what it means in today's vernacular — but it's spiritual in that it reflects Aimee's message of "God loves you, no matter what." That's a message we need today. You can even leave God out of it; just know that you're special and have a purpose.

What's your purpose, Kathie Lee?
KLG: Five or six years ago, before Paul Newman's death, I was invited to a fundraiser for the Westport Country Playhouse, where his wife was artistic director. Paul and I had become friends years earlier. It was a bitter cold Sunday night, I didn't want to go, but I went. I didn't know a soul there. Then Paul Newman walks in. There's a big hubbub, and I knew he needed another hanger-on like a hole in the head, so I went into the next room in search of a glass of wine. About 15 minutes later, I feel a tap on my back. Paul gets down on one knee, takes my right hand in both of his hands, kisses it, and looks up at me with those eyes. I say, "OK, now I can die." As he's getting up, I say, "Oh, Paul, how are you?" He says, "I have a pulse. At this age, that's a good thing." I remember going home and being so moved by the experience.

Kisses from Paul Newman!
KLG: Sure, what woman wouldn't remember that forever? But his words hit me on a more profound level. Paul Newman could've been anywhere and doing anything that night, but here he was at 80 years old trying to put something good into the universe, even if it's just an old theatre in Connecticut. I've taken my metaphorical pulse every day since then, and as long as I have one, I have a purpose: There's still good for me to do. There's still someone who needs to be told that they're special. I don't want people to live in defeat. I don't want people to let the world define who they are. I want to tell people, "God loves what he created and you're it." If that's a sinister agenda, OK, you caught me.