Katie Holmes and Norbert Leo Butz Talk About the Sibling Revelry of Dead Accounts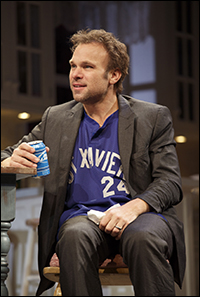 Photo by Joan Marcus
"You Can Count On Me," Kenneth Lonergan's movie with Laura Linney and Mark Ruffalo, comes closest to the sibling relationship center-stage here — "although maybe it's switched a little bit," Butz allows. "Laura Linney was the older, more stable sibling in the film. Here I'm the older sibling, and Katie's the younger, more grounded one — so the dynamic is different. It's also a sibling relationship where there's a lot of love — for each other, for our mother and for our father, who never appears on stage but is in a room above us the entire evening and might as well be a character on stage. In fact, he probably is the most important character in the play."
Holmes, the youngest in a five-sibling house, recognizes this home turf: "What I love about this play is how Theresa very simply presents our two characters. The stuff that we converse about in the play starts off like no big deal, and that's how sibling relationships are. You're not always hitting each other, you're not always hugging — "
" — because of the shared history, small, seemingly mundane things can turn into something big," says Butz, finishing her thought.
Holmes nods. "Yeah. They eat out of the same bowls, they drink out of the same glasses — it's not a big deal — they borrow each other's clothes without asking."
"Yet," Butz injects, "they have a symbiotic relationship in the play. Life has just sent them in separate directions. There has been a splintering in the relationship."
"Which I find heartbreaking," Holmes has to add.
"It is heartbreaking, very much so. They have lost touch and chosen very different adult lives. The play forces them into the same room again, and then they have to deal with the fact of each other and how they've both changed. This is a grown-up play. It's a play about grown-ups and growing up."
By this point in the interview, Holmes is comfortable enough to lapse into her fashion-plate pose, hugging her knee and looking like her usual million bucks. She smiles at the compliment. "Thank you, because this morning it wasn't looking good."
(This feature appears in the December 2012 issue of Playbill magazine.)