Kenny Ortega, David Moscow and Veterans of "Newsies" Film Reunite at Paper Mill Fan Day



Photo by Benjamin Brooks
*
Kenny Ortega, original director and choreographer of the 1992 feature film — not to mention director of Disney's "High School Musical," which was also given a first professional staging at the Paper Mill — reunited with original movie cast members David Sidoni, Arvie Lowe, Jr., Gabriel Damon, David Sheinkopf, Kevin Stea, Shon Greenblatt, Luke Edwards, David Moscow, screenwriter Noni White and lyricist Jack Feldman. The Sunday evening gathering concluded Newsies' first official week at Paper Mill (opening night was Sept. 25).
"I guess it's true that there really is a following for this piece, which is just astounding to me," said lyricist Feldman, as his eyes scanned the massive number of fans crowding both the original and current newsboys. "It wasn't until about ten years ago that we began to realize that there were people who were really enjoying the movie in its second life as a video and DVD. It's still kind of shocking. It's not surprising anymore, but it's still shocking."
However, it was no shock to original movie director Ortega, who acted as the link between the fans, the movie stars and the up-and-coming performers of the stage adaptation. "The movie had a tough opening, but I believed in the movie regardless," Ortega explained to the fans at the pre-show talkback, which featured the two Newsies casts. "I knew that there was something there special, and I'm so thankful that all of you discovered it."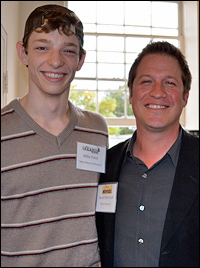 photo by Benjamin Brooks

The movie-musical, by screenwriters White and Bob Tzudiker, featuring a score by Academy Award winner Alan Menken and Feldman, stars Christian Bale as street-smart newsboy Jack Kelly and centers around the true story of the newsboys strike of 1899. Although the film was not a hit at the box office, it rapidly gained a cult following and became a Disney classic after its release on VHS and broadcasts on the Disney Channel. Musical numbers including "King of New York," "Santa Fe" and the anthemic "Seize the Day" became favorites, but would only have a life on screen — until now.

In 2010, Tony Award winner Harvey Fierstein was enlisted by Disney Theatricals to patch the holes in the story, Menken and Feldman would reunite to elaborate on the pop-rock score, and Tony nominee Jeff Calhoun stepped in to direct the newsboys in their adventures in and around Newsies Square. With major rearrangements to the storyline, fresh choreography by Christopher Gattelli and the addition of a love story, Newsies would "Carry the Banner" to New Jersey for a test that would prefigure the show's expected life as a licensable property for school, stock and amateur markets. (In recent days, there has been talk of a Broadway transfer of the show.) Performances began Sept. 15 at the Paper Mill, in Millburn, NJ.

Between the matinee and evening performances on Oct. 2, the stars and creatives of both versions of the property signed posters, posed for pictures and reminisced about their favorite Newsies memory.

"This is an opportunity to actually see what effect our work has had out there in the world, and it's phenomenal," said Kevin Stea, who played Swifty in the '92 film. "I can't believe how many people have been touched and inspired by Newsies."

Shon Greenblatt, who played Oscar Delancey, added that the work was born to transfer to the stage. "It seems like it is the most natural thing — Alan Menken, Disney… and now Harvey [Fierstein] is involved, so I think it will do great."