Kingsley Leggs Steps to the Bad Side in Sister Act's National Tour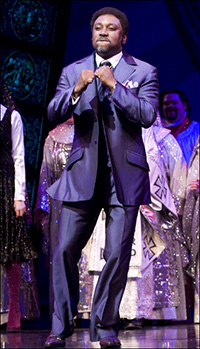 Photo by Monica Simoes
Leggs has been singing ever since he was a child, but it was while he was in high school that he discovered his career path, thanks to his teacher and mentor, Paul Mabury, who cast him in Carousel. "I knew at once that if I could make a living in theatre, this is what I wanted to do with the rest of my life," he says.
He followed Mabury to Benedictine College in Kansas, and after graduating in 1983 returned to his native St. Louis, where he soon became a member of The Black Rep, now the largest African-American theatre company in the nation. He went on to do countless regional productions and numerous tours, the highlight of which was playing Coalhouse Walker in the first national company of Ragtime. He also had a brief stint on Broadway, understudying the role of John in Miss Saigon.
"The ironic thing is, I've been in the business for almost 30 years and I've played just two really bad guys, but that's how people know me," he says. "It's too late for me to be concerned about being typecast because it's already happened, judging from the parts that I get called in for. It's probably time for me to step away from this kind of role for a minute and do something a little nicer, to remind myself and others that I am capable of doing other things. It would also be nice to relieve my spirit, because after you do these kinds of parts for a long time, they can get into your soul a little bit. So I hope the next thing I do is different. But I enjoy playing bad guys, and I'm never going to shy away from them."
(This feature first appeared in the subscription issue of Playbill magazine. Want to subscribe to home delivery? Visit PlaybillStore.com.)