Let's Be Real: Toni Collette and Marisa Tomei Star in Will Eno's New Play The Realistic Joneses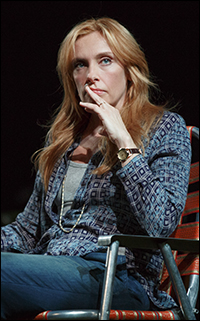 Photo by Joan Marcus

Collette chimed in that it's like a "merging of souls" between actor and character and then the conversation relaxes again, with the two women briefly merging their souls. "There's something of every actor in the role they play because it's their individual take on the character," Collette said, "It's not who they are but it's the way they see it, it's..." pausing to find the image she wanted, Tomei finished the thought, "just their lens."

The two Joneses have been keeping up with each other in terms of accolades and awards: Collette acted in a half-dozen plays from 1990 to 1992 in her hometown of Sydney, Australia, earned Golden Globe nominations for the films "Muriel's Wedding" and "Little Miss Sunshine," an Oscar nomination for "The Sixth Sense," and both an Emmy and Golden Globe Award for the television series "United States of Tara." She has been so busy with movies like "The Way Way Back," "Enough Said" and "A Long Way Down," plus the television series "Hostages," that she has been away from the stage since 2000, when she earned a Tony nomination in The Wild Party, her Broadway debut.

Brooklyn-born Tomei first made a name for herself Off-Broadway, winning a Theatre World Award in 1986 for Daughters, then became a star for her Oscar-winning role in "My Cousin Vinny;" she later earned nominations for "In the Bedroom" and "The Wrestler." An original member of the Naked Angels theatre group, she has maintained a more steady stage presence — despite living in Los Angeles she keeps her New York apartment so she can more easily say yes to plays — with numerous Off-Broadway roles and three Broadway appearances in the last 16 years, including Top Girls, for which she garnered a Drama Desk nod in 2008.

Eno said both women fit his work perfectly. "They're able to take something seriously and see the absurdity or silliness of it. Both can be funny without reaching for laughs, but by opening themselves up."

"Both women have the technical precision Will's writing requires," added director Sam Gold, "but you are able to relate to them like they are the woman next door, which they are in the play."

Rehearsals have been a lovefest — the women sing the praises of their co-stars, Eno, and Gold, saying the process has been truly collaborative. "I love this part," Tomei said of rehearsals. "I like being in this room — the wood dance floors and just an empty space with a bunch of people coming in to play," and Collette, again finishing the thought, added, "and then it takes on its own energy. That's the most exciting part, all these different people come together with their love for one piece of writing and with everyone's input it becomes its own entity."

The conversation was flowing so smoothly at this point but then suddenly the reporter drew a complete blank on his next question, leaving an awkward silence. Tomei laughed heartily. "That's completely like the play — you should just end the interview like that. Just a little head scratch and a sigh and that's it."

So that's it.