Love in Bloom: Orlando Bloom Makes Broadway Debut in Romeo and Juliet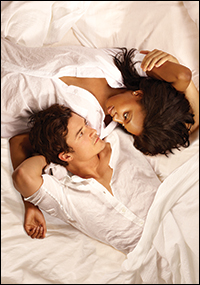 Photo by Robert Ascroft
With an interracial couple at its center, this production has been conceived with a black household and a white household. Does that racial divide add tension between the feuding families?
OB: To me, the story is more about two lovers who aren't allowed to be together, so it doesn't matter if they're black, white, or whatever. When I first met with actresses for chemistry reads, I didn't just meet with black actresses. The whole race thing only evolved after Condola was cast.
How does a contemporary setting benefit the story?
OB: It's a great idea, because the play is timeless. It's like holding hands with the past. I told David, our director, "If Shakespeare wrote this for his youth generation, shouldn't we be on Broadway speaking to our youth generation in New York City?"
What's unique about your portrayal of Romeo?
OB: First of all, this is my first Shakespeare play. I was in the midst of rehearsing Orsino in Twelfth Night at drama school when I broke my back, so I didn't get to perform it. I also haven't been overexposed to Romeo and Juliet. I read a few Romeo scenes for a Los Angeles Philharmonic concert series, and I saw the fantastic Baz Luhrmann film in the cinema like everyone else, but I didn't study the play at school and I've never seen it on stage. I think my unfamiliarity is a blessing, because I have a blank canvas on which to play and hopefully bring something different, interesting, and exciting.
You'll no doubt have "Lord of the Rings" and "Pirates of the Caribbean" fans in the audience. Will this Romeo and Juliet please the popcorn-movie crowd? OB: Absolutely. Bringing a historic and acclaimed text to a 2013 audience is key, and I believe everyone can enjoy an evening of love, poetry, and passion. If we do it right, I think there will be a lot of broken hearts around town. People will be turning to their partners, saying, "You don't love me enough!"
(This feature appears in the September 2013 issue of Playbill.)
*
Romeo and Juliet began previews Aug. 24 at the Richard Rodgers Theatre.
In addition to Bloom as Romeo and Rashad as Juliet, the cast also features Tony Award nominee Jayne Houdyshell (Follies, Dead Accounts) as the Nurse, Tony Award winner Brent Carver (Kiss of the Spider Woman, Parade) as Friar Laurence, Tony winner Chuck Cooper (The Life; Caroline, or Change) as Lord Capulet, Christian Camargo ("The Hurt Locker," "Twilight," All My Sons) as Mercutio, Justin Guarini (Women on the Verge, "American Idol") as Paris, Roslyn Ruff ( The Piano Lesson, "The Help") as Lady Capulet, Conrad Kemp ("The Girl") as Benvolio, Corey Hawkins as Tybalt and Geoffrey Owens as Prince Escalus.
This production marks the first time in 36 years that the play has been produced for Broadway. This version of the classic tale, according to press notes, "will retain Shakespeare's original language but have a modern setting in which members of the Montague family will be white, and the Capulet family will be black."
For tickets visit Ticketmaster.com. The Richard Rodgers Theatre is located at 226 W 46th Street.
Visit romeoandjulietbroadway.com.