"Measure in Love": Members of the Theatre Community Reflect at Thanksgiving; Words from Elaine Stritch, Jordan Roth, Lynn Ahrens, Lindsay Mendez and More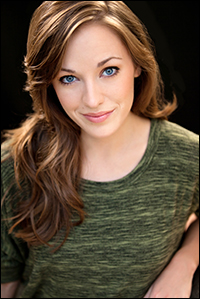 Photo by Nathan Johnson Photography

Actress Laura Osnes, Cinderella:
For some reason, Thanksgiving will forever remind me of my Bonnie & Clyde family. That cast spent three Thanksgivings in a row together over the three-year development of that special production. I'm also particularly thankful for my dressing team, Tamara Kopko and Carrie Rohm. These gals are such dear friends, collaborating on three Broadway shows together and counting! Tammy and Carrie have tirelessly taken care of me, cried with me, laughed with me, lived with me and lost with me over the past five years.

Songwriters Benj Pasek and Justin Paul, A Christmas Story, James and the Giant Peach:
We are grateful to the many writers who have come before us, not just for the brilliant works they've given us and the stellar examples of musical storytelling they've provided, but for the time they have given back to nurture younger writers like ourselves. We are continually blown away by how many of our songwriting heroes take time out of their monstrously busy schedules to speak to folks like us who are new in the industry and still very much learning the ropes. Whether it's giving business advice, notes after a first preview, or just a cup of coffee when things are looking bleak... We are so blessed to have these relationships. And we are not alone - we've watched these artists spend countless hours teaching classes, attending workshops, and giving critical feedback to the next generation of songwriters, passing down a tradition and a passion for a uniquely American art form. It is inspiring and overwhelming, and we're grateful to know these extraordinarily talented - and generous - men and women of the theatre.

Thelma Pollard, production make-up supervisor, Phantom of the Opera:
On June 7, 2013, I left the theatre, stopped at the store to buy some make-up in preparation for the weekend of the Tony Awards. I got off the bus [and] waited for the light to change. I look left, then right, to make sure that there was no traffic. I stepped off the sidewalk, got half way into the crosswalk [and] I observed the police car at the other [side] of the crosswalk. The next thing I knew, I was struck by a drunken driver. I said to him, "Did you not see me? I had the light." As I sat in the street with the rain pouring down on me, I was in complete shock. I pondered if I would stay alive or die in the street and never say goodbye to my family or friends.

On my way in an ambulance to the hospital, I remember that I promised I would attend the Bronx Theatre High School Career Day later that day to speak and demonstrate my work to them. As I lay in the hospital bed, I wondered if I would stay alive to make it to the school. How would I tell them I cannot make it? How disappointed the children would be!

I arrived home from the hospital, rested a bit. I knew that I could not walk up the stairs at the subway. I lay there hoping that someone would call so I could tell them I cannot make it. No one telephoned. I heard a voice within say, "You could take a taxi." I did. The presentation to the children went well. They were inspired. The smiles on their faces inspired me to go on.

Today with all the therapies I am doing better. This Thanksgiving Day, I am thankful to be alive and for the strength to persevere. I am thankful for my job at The Phantom of the Opera. Thankful that being in this job has allowed me to touch so many lives. I am thankful that I am a part of the founding members, who got together to start the Broadway Division 798 Hairstylists and Make-up Artists. I was appointed by the board and sat on the board of trustees as the Broadway representative for many years. I am also on The Negotiation Committee and am a delegate for the union. I am thankful for all my family, friends and loved ones.